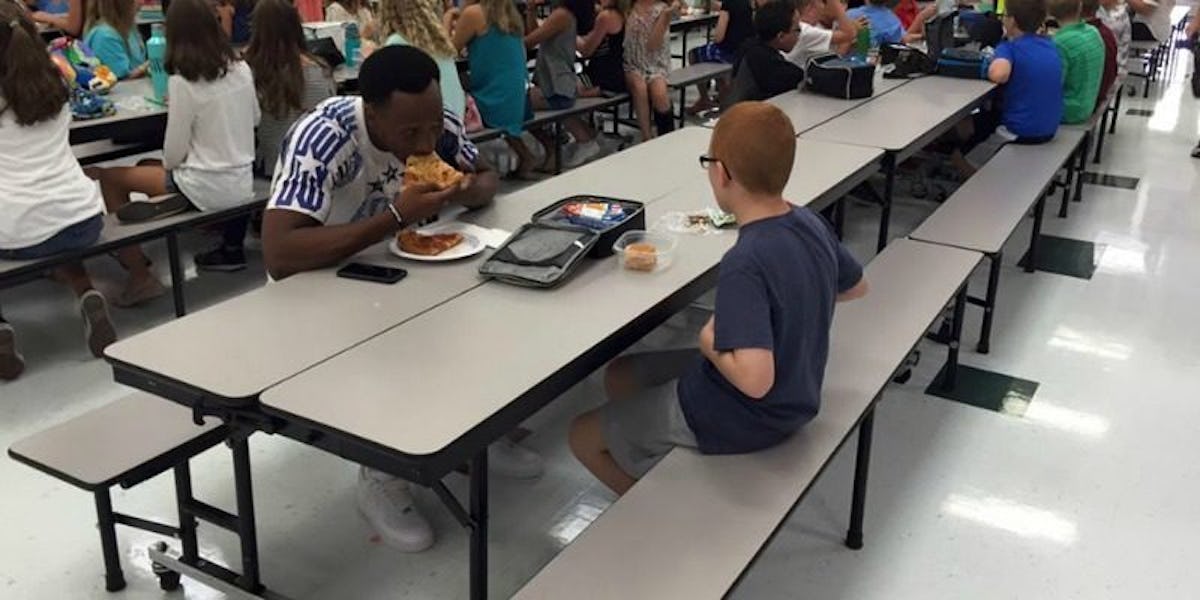 FSU Player's Lunch With A Middle School Student Will Bring You To Tears
Facebook
The last day of August is finally upon us, which means a number of different things to a number of different people, but for me, it means football season is finally here.
The NFL is still a few weeks away from kicking off, but college football is back, baby. All the top teams will be in action this weekend, and I can't wait to park myself on my couch for hours and get lost in the madness.
The Florida State Seminoles begin their season on Monday, September 5, but FSU wide receiver Travis Rudolph arguably already made what could be the play of the season.
Tuesday, Rudolph and his teammates stopped by Montford Middle School in Tallahassee, Florida where Rudolph observed a student having lunch alone in the school cafeteria.
Travis Rudolph didn't think twice. The wideout sat across from the boy, Bo Paske, and the pair shared a meal like any other.
Bo Paske has autism, and unfortunately, he apparently often sits alone in the cafeteria during lunch time. When Rudolph ate with Paske on Tuesday, someone took a picture and shared it with Paske's mom, Leah, which helped this story go viral.
Leah Paske posted the picture of her son with the FSU player on Facebook, and the rest, as they say, is history.
Leah Paske wrote the following caption to accompany the photo:
Now that I have a child starting middle school, I have feelings of anxiety for him, and they can be overwhelming if I let them. Sometimes I'm grateful for his autism. That may sound like a terrible thing to say, but in some ways I think, I hope, it shields him. He doesn't seem to notice when people stare at him when he flaps his hands. He doesn't seem to notice that he doesn't get invited to birthday parties anymore. And he doesn't seem to mind if he eats lunch alone. It's one of my daily questions for him. Was there a time today you felt sad? Who did you eat lunch with today? Sometimes the answer is a classmate, but most days it's nobody. Those are the days I feel sad for him, but he doesn't seem to mind. He is a super sweet child, who always has a smile and hug for everyone he meets. A friend of mine sent this beautiful picture to me today and when I saw it with the caption 'Travis Rudolph is eating lunch with your son' I replied 'who is that?' He said 'FSU football player', then I had tears streaming down my face. Travis Rudolph, a wide receiver at Florida State, and several other FSU players visited my sons school today. I'm not sure what exactly made this incredibly kind man share a lunch table with my son, but I'm happy to say that it will not soon be forgotten. This is one day I didn't have to worry if my sweet boy ate lunch alone, because he sat across from someone who is a hero in many eyes. Travis Rudolph thank you so much, you made this momma exceedingly happy, and have made us fans for life! #travisrudolph #gonoles #FSU #autismmom #fansforlife
I'm currently in tears, but I'll keep writing because it's important we acknowledge Rudolph's kindness.
Travis Rudolph didn't do something to be a hero or boost his public image, he simply had lunch with a kid who was sitting alone. No one should eat alone. Once Travis learned more about the boy he had lunch with and saw Leah Paske's Facebook post, he had to hold back the tears.
Rudolph's coach, Jimbo Fisher, spoke about his player's actions Tuesday, and he pretty much summed it up best, saying,
Make somebody's day by being yourself.
Never forget the values that were instilled in you as a kid. A small gesture could go a long, long way.
Citations: Florida State player's incredible gesture will bring you to tears (NY Post)