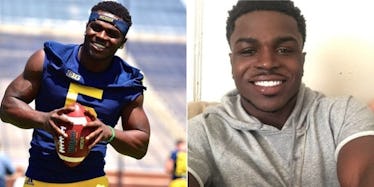 Woman Puts Flyers Around Campus Saying Football Star Gave Her An STD (Photo)
Michigan Wolverines star defensive back Jabrill Peppers is no stranger to seeing his name in print, but this week, he got some very unwanted publicity.
According to reports, a female University of Michigan student posted 5,000 flyers all over campus claiming Peppers gave her chlamydia for the second time this year.
The female penned a 660-word letter going in on Peppers, with whom she thought she was in a monogamous relationship with.
This is the letter that was posted all over Michigan's Mason Hall.
Posted in the girls bathroom at UMich. @ Jabrill Peppers pic.twitter.com/5KurJBxnQb — kt (@gaytee) October 26, 2015
Peppers isn't trying to hear any of those 660 words, though.
The redshirt freshman took to Twitter to call these claims nothing but "slander."
The slander is crazy. My word is all I have, I will continue to walk w. my chest and chin high. People love bringing someone down. #prayedup — PeppyPep (@JabrillPeppers) October 26, 2015
Whatever happened to sex ed?
Citations: Woman posts 5,000 flyers around University of Michigan campus claiming football star gave her chlamydia TWICE (Daily Mail)