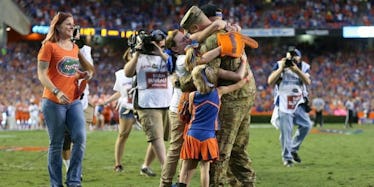 Army Dad Surprising His Family At A Football Game Will Melt Your Heart (Video)
Sporting events are great for a multitude of reasons, and when they provide platforms for fans to cheer on things completely unrelated to the games, they are especially awesome.
That was the case Saturday night when the Florida Gators welcomed the family of US Army Officer Kristian Denkins on the field at Ben Hill Griffin Stadium in Gainesville, Florida.
Officer Denkins' wife and four children proudly waved to the crowd as a video message from the officer played in the stadium, and the family was clearly overwhelmed by the moment.
But, they were in for an even bigger surprise when Officer Denkins came running onto the field to share in an emotional family embrace.
Salute to Officer Kristian Denkins and everyone at the University of Florida who made this possible.
Citations: Florida football: Serviceman surprises family in Gainesville (NCAA)