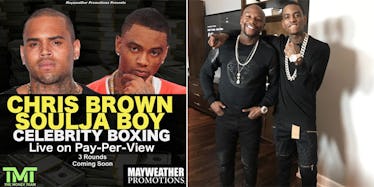 Floyd Mayweather Is Helping Soulja Boy Fight Chris Brown, Because 2017
Instagram
I really wish I was lying to you, guys, but yes, it's true. Boxing legend Floyd Mayweather is promoting a celebrity boxing match between Chris Brown and, of all people, Soulja Boy (tell 'em).
After the two artists exchanged fighting words over social media for the majority of the week (you know, millennial stuff), both posted messages on Instagram indicating an actual fight had been agreed upon.
Chris Brown posted a caption that read,
NOW THAT WE HAVE YOUR UNDIVIDED ATTENTION.... BOXING MATCH SET. Legally. Man to Man. NO MORE DISSING AND NO MORE BULLSHIT.
Meanwhile,"Big Soulja" posted his own caption, which read,
It's going down! Signed my contract I'm leaving the fight with $1,000,000 I got the best ever my big bro @floydmayweather training me damn.
But wait, there's more!
After Soulja Boy posted the message that "confirmed" his involvement in the fight, the 26-year-old posted multiple videos with Mayweather, who's apparently in Soulja's corner.
In the most recent video, Mayweather and Soulja sit down for an interview to discuss the promotion for the fight.
So yeah, this is a thing.
If you're wondering how we got here, let me try my best give a quick recap:
Soulja Boy called out Chris Brown out of nowhere while referencing Chris' ex, Karrueche.
The two starting exchanging jabs in Karreuche's mentions. Soulja Boy continued to do most of the antagonizing, including mentioned Chris Brown's daughter.
Soulja then apologized, mentioning that his mom had been in the hospital and saying he'd like to make music with Chris Brown. But next thing you know he's on Snapchat talking trash, before appearing on Instagram with Floyd and here we are.
Both artists are already working out.
Right, they're dead ass serious about this. Or at least serious about making us think they're serious, which brings me to my next point. Y'all ready?
This fight ain't happening, man. I don't care who reports on it — and many reputable outlets have — I'm not believing this is happening until I actually see some confirmed dates, broadcasters or contracts — something! It's certainly gonna take more than a photoshopped flyer to convince.
Why? Because it's Soulja Boy (tell 'em!) we're talking about here, guys. Soulja. Boy.
The guy who looked dead into a camera and told all of us he shot a guy like this.
Youuuuuuuu (know damn well this is not happening).
Citations: The Guardian