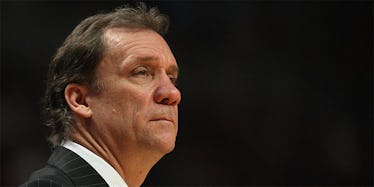 Flip Saunders Loved Minnesota And That's What Makes Him A True Legend
At some point, people will start to discuss Flip Saunders' basketball legacy and his place among the pantheon of coaches who have graced the NBA hardwood.
Doing so will feel like the proper recourse to some, particularly following the untimely passing of the Minnesota Timberwolves coach, executive and part-owner over the weekend. At 60 years old, he lost his battle with Hodgkin's lymphoma.
Inevitably, wins, losses and the subjective idea of "success" will be thrown into the discussion but when they are, they will only get in the way of what truly matters.
Too often, amidst all the talk of points scored and banners raised, we forget and undermine some of the greater and more poignant aspects of sports -- how they bring people together, how they help create some of the greatest memories we have with others during these few precious years on earth and, especially in Flip's case, how they can become an extension of civic pride.
When it comes to the latter -- how people's love for where they are from can be emphasized by their athletic service to that area - Philip "Flip" Saunders can only be described as a Minnesota sports legend.
His resume, along with the legacy of his family, speaks for itself.
Flip was born in Cleveland, but ventured to the land of 10,000 lakes to play for the University of Minnesota basketball team.
With the Gophers, he was a four-year starter at point guard on a team that featured former NBA champions Kevin McHale and Mychal Thompson. Thompson's son, Golden State Warriors star Klay, tweeted this picture of that famous Minnesota squad:
The NBA family lost a great guy today. RIP Flip. Sending my condolences to his team and family pic.twitter.com/tu07ZXCjTA — klay thompson (@KlayThompson) October 26, 2015
After a brief effort to start an NBA playing career around his first home, with the Cleveland Cavaliers, Saunders returned to his new home, the twin cities.
There, he began his first coaching job at age 21 as the head man at Golden Valley Lutheran College.
After four years at Golden Valley, he spent half a decade as an assistant coach back at "The Barn," the home floor of his alma mater at Minnesota.
Flip Saunders began his coaching career at Golden Valley Lutheran College (a very small MN college) in 1977. pic.twitter.com/UKzy8sPfFL — Stirrups Now! (@uniformcritic) October 25, 2015
A full decade later, after another assistant's gig at Tulsa and three minor league coaching tenures, Flip landed the Minnesota Timberwolves head coaching job under his former teammate and then general manager Kevin McHale.
The start of his NBA coaching career coincided with the start of Kevin Garnett's and together, the two presided over the most successful era in the franchise's history, which included eight straight years of playoff contention and an MVP award for Garnett.
Powerful tribute to Flip Saunders from Kevin Garnett. (via Kevin Garnett / Facebook) pic.twitter.com/pY164lgYSI — SportsCenter (@SportsCenter) October 25, 2015
After parting ways with the franchise in 2004, Saunders would eventually return to the T'Wolves in 2013. Since then, he assembled a young group of stars and orchestrated the return of Kevin Garnett to the franchise.
But even in between his two tenures with the Timberwolves -- even while working with ESPN all the way in Bristol, CT -- Flip kept his home in Minnesota.
To people who questioned that decision, he'd reply,
And I'd say 'Well, you don't really understand unless you're from Minnesota. You really don't get it. Even when it snows on May 3 you really don't get it. And the loyalty and the passion that the people have here is what always drives me back.
Equally as impressive as his own ties to the state is just how rooted his family was in Minnesota.
He met his wife at the University of Minnesota when she was a cheerleader for the Gophers. Two of his daughters went on to cheer for the Gophers as well.
His son, Ryan, played for the university, just like his dad, and would eventually join Flip on the T'Wolves coaching staff.
But if Maya Angelou was correct in asserting that, among all the things we do, people will never forget how we made them feel, then the stories about Saunders that the people of Minnesota share should be the most important part of his legacy.
Scroll to any comment on the Star Tribune's website and you'll find a story about how generous Saunders was with his time at an airport, or how welcoming he was at a basketball camp, or how chill he was even while taking a visit to a local cell phone store to replace a stolen item.
One of the stories that sticks out most was shared by Minnesota native and T'Wolves rookie Tyus Jones, who Saunders would selected at the NBA Draft this past June.
Coach tweeted this after a game my junior year of high school. Thanks for believing in me from the beginning. https://t.co/FAwIzxC0Al — Tyus Jones (@Tyusjones06) October 25, 2015
Watched #tyusjones tonight. Like I say "Point Guards are delivered from heaven". That's him! Fun to watch. — Flip Saunders (@Flip_Saunders) March 10, 2013
One of the more common remarks you'll see, though, is much more simple: "You were one of us."
The sense of affection was mutual, especially if the beautiful montage below, put together by Fox Sports North, is any indication.
At the end of the video, when asked what is the greatest common trait he and his son share, coach Saunders didn't cite a jump shot or any basketball philosophy.
Instead, he went for this:
I think if I had to say where is the most similarity it's that we care about people. Not only caring about people but care about Minnesota.
Safe to say, people in Minnesota loved and embraced Flip Saunders. He loved them back. And the fact that it showed so profoundly in all his years playing and coaching in that state makes him a true legend.