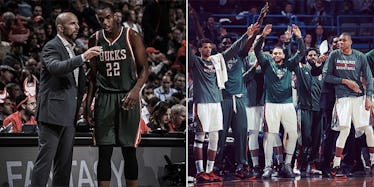 5 Reasons NBA Teams Should Watch Out For The Milwaukee Bucks Next Year
Instagram
As a diehard Chicago Bulls fan, it's killing me to write this article because I've gone from giddy to nervous after the Bulls hopped up to number three and drew nearby rivals Milwaukee Bucks for their first-round play.
While I'm still confident my Bulls will pull off the win against their Northern foes (and will then go onto make a mockery of the King himself in the second round), this article is not about the man-boy-wonder, Mirotic, or that Chi-town has the most hair (facial or otherwise) in the NBA by far.
This is, in fact, an ode to Jason Kidd and his young Bucks. Call it a precursor to next year, or fair warning to the unimpressive East Conference, but Milwaukee is not going away anytime soon.
Here are some reasons why:
Jason Kidd is the right coach
This is the 19th straight season Jason Kidd has made the playoffs, and his second straight in his two-year tenure as a head coach (with two different teams). His knowledge of the game is undisputed, and the respect he commands is clear.
It helps that he's coaching guys who are about two decades younger than him, rather than say, Kevin Garnett, Paul Pierce or Joe Johnson.
They're young and hungry
With an average age around 24, these kids are just getting started. Take out the outlier, Zaza Pachulia (he doesn't play like he's 31), and add in injured Jabari Parker, and you've got an average age of about 22.
Since we're on the subject, the Bucks are playing without, quite possibly, their best player, Parker, who has been injured since early in the season with a torn ACL.
Up until his injury, though, Parker was averaging 5.5 rebounds and 12.3 points per game, and he's only going to go up from there.
Playoffs star Carter-Williams, the Greek Freak, Antetokounmpo, defensive powerhouse Henson and always-reliable (and soon-to-be free-agent) Middleton, are all under 25, which could make for a very scary lineup next year.
They have the talent
At first glance, the Bucks have a bunch of no-namers, compared to the stars they're going up against, like D-Rose or LeBron.
But, take a look at their roster and you'll see it not only goes deep, but is also full of young talent you were once rooting for during March Madness (and some very special out-of-towners).
Out of their nine essential players, most were first-team all conference during college. There's an ACC Player of the Year and an ACC Defensive Player of the Year.
The raw, energetic talent, usually only seen during an NCAA tourney, has transferred over to the young team.
They allowed just 99.3 points per 100 possessions this season, second only to Golden State, and watching them route the Bulls (forcing them to game six), has made it clear these young Bucks have what it takes.
The front office knows what's up
When they traded away their shining star, Brandon Knight, the front office in Brew Town was getting some dirty looks.
But, it turns out they knew what they were doing all along. Knight was having a great season, thus far, but the Bucks were looking for the long haul, and the long haul is what they're going to get.
By investing themselves in young talent like Carter-Williams and Antetokounmpo, the Bucks are setting themselves up for not just one good season like they may have had with Knight, but, dare I say, a dynasty?
Let's not forget Khris Middleton, who was an offensive powerhouse toward the end of the season and finished with a 40.7 percent three-point average, is up for free agency. He, most likely, will get a hell of a raise at the end of his stellar third season.
Even after that, the Bucks have an estimated $44 million in spending money, so think about what will happen if management is able to lock down another star.
Oh, and in case you haven't heard, they're pushing for a new $500 million arena downtown for their new and improved men in green, too.
The East is ... not so great
As we've already seen, the East, as compared to the West, can handle a force to be reckoned with. The two lowest seeds that made it to the playoffs did so with losing records.
Even the Bucks, who I'm doting on in this article, made it in at a 6-seed, with a measly .500 record. Compare that to the West, where triple-doubles on end can't get you into the playoffs, and four teams almost tied with a 56-26 record.
The last and only time the Bucks won an NBA championship was in 1971, which makes 2016 a perfect time for the Bucks to make a run for it.
Is it just me, or does "45 years later" have a nice *ring* to it?