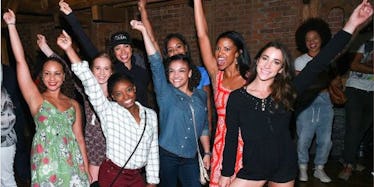 The Final Five Fangirling Over 'Hamilton' Might Be The Cutest Thing Ever
Twitter
Wondering how to get tickets to "Hamilton," the hottest Broadway show in New York City?
It's easy. Just win a bunch of gold medals at the Olympics. At least, that's what we learned from the Final Five.
The Final Five couldn't finish their victory tour around New York City without stopping in at the hippest show of the year.
The members of the US women's Olympic gymnastics team -- Simone Biles, Aly Raisman, Madison Kocian, Gabby Douglas and Laurie Hernandez -- spent the past few days doing a media tour around New York.
They were returning from a seriously victorious turn at the Rio Olympics, where they won the team gold, as well as a package of individual medals.
Before heading back to their own homes, the women stopped to see "Hamilton" on Broadway.
Here's where I should probably make a "Hamilton" reference, but I'll be honest with you, you guys, I don't really care about "Hamilton." While I find Lin-Manuel Miranda a generally cool and inspiring dude, musicals just aren't my thing.
Plus, rap with historical and educational themes gives me too many cringe-y memories of high school history teachers trying to be cool. Yikes.
Anyway, America's treasure, the Final Five, saw "Hamilton" the other day in New York.
They got all dressed up to go.
hamilton musical pic.twitter.com/y2exEM1qIJ — Simone Biles (@Simone_Biles) August 24, 2016
They had a girl power "work" pose, the internet tells me.
They hung out with cast members...
...including the new dude playing Hamilton, Javier Muñoz.
They also hung out with the band, according to violinist Mario Gotoh, which is great because instrumental musicians are...instrumental!
We got to meet the amazing #FinalFive @HamiltonMusical last night! #Hamilton pic.twitter.com/CdFZQbxaC8 — mario gotoh (@mariogotoh) August 24, 2016
The team got praise from performer Renée Elise Goldsberry, who called them her "heroes."
And the women seemed quite impressed with the show itself.
The Final Five gymnasts now join the ranks of other distinguished guests who have been to see "Hamilton," including Hillary Clinton, Barack Obama and fellow cool teens Sasha and Malia.
"Hamilton" and the Final Five have one sweet thing in common: They're rewriting American history in a more diverse form.
"Hamilton" famously has people of color performing as historic American figures, and over half of the Final Five are women of color; Douglas and Biles are African-American, and Hernandez is Latina. Douglas was the first African-American woman to win gold in the individual all-around when she won in 2012.
That's a pretty spectacular thing and a very fitting meeting of greats.
Citations: Elle