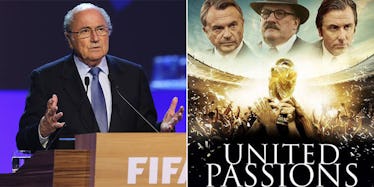 FIFA Spent $30 Million On A Movie To Make The Execs Look Like Heroes
Facebook
In case the corruption arrests and dog and pony show presidential election weren't enough, this latest bit of FIFA news is sure to make you shake your head in disbelief.
This Friday, the movie "United Passions" will make its US debut. What's it about, you ask?
Well, this drama, which is almost entirely funded by FIFA, is about the heroic FIFA executives who oversaw the creation of soccer's global governing body from the idea stage to the corrupt megacorp.
Basically, it's two hours of Tim Roth, running around as Sepp Blatter, receiving endless pats on the back.
Speaking with The New York Times, the film's director, Frédéric Auburtin, said,
Every time we are showing something about Blatter himself, it's very, very difficult because the guy is the boss... The guy is co-producing more than half the film, nearly 80 percent.
I'll leave you with this tidbit from IMDb:
Once football was about small boys in the park… This is the story of the men who took football from that and changed it. A group of wholly honest and deeply ethical men who had a dream and, to achieve that dream, established the  Fédération Internationale de Football Association (FIFA).
Wholly honest and deeply ethical? That sounds about right.
Citations: FIFA Film: An Epic Fantasy (The New York Times)