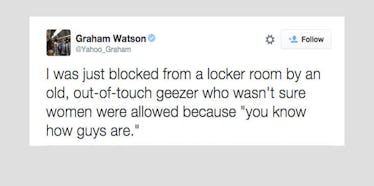 Female Reporters Were Apparently Denied Access To An NFL Locker Room
Twitter
It might have only been temporary, but an apparent denial of entry extended to three female journalists on Sunday was received as a huge insult.
When getting ready to enter Jags locker room with other APSE female fellows, old man tried to deny us entry. It's still 2015, right? — Joey Chandler (@Joey_TNews) October 4, 2015
The three female journalists -- Joey Chandler of the Tuscaloosa News, Graham Watson of Yahoo! Sports and Katie McInerney of the Tulsa World -- were reportedly denied access by an attendant guarding the visiting locker room after the Indianapolis Colts' game against the Jacksonville Jaguars at Lucas Oil Stadium in Indiana.
According to The Indianapolis Star, Watson said the attendant in question told her, "I'm not sure you're allowed back there," before said attendant began asking others whether the female journalists should be allowed entry.
She said,
Never ever have I had someone stop me from going into a locker room I was allowed to go into. I've covered events all over the world. I was stunned. I was angry. He should not be working the door of an NFL locker room.
Chandler also said the attendant discouraged her from entering as well.
She said,
He said, 'I'm sure you know how guys are, I'm just warning you.'
I was just blocked from a locker room by an old, out-of-touch geezer who wasn't sure women were allowed because "you know how guys are." — Graham Watson (@Yahoo_Graham) October 4, 2015
This guy was an usher and apparently not aware that women cover sports. I about lost it. @Colts @Jaguars — Graham Watson (@Yahoo_Graham) October 4, 2015
The irony of the situation? All three of the women were in Indianapolis for the Associated Press Sports Editors diversity fellowship weekend, Awful Announcing noted.
According to the Star, their presence in the locker room was part of an exercise to practice coverage of a game. But with most sports reporters working on a strict deadline after conclusions of games, the delay could have severely impaired the women's ability to report in a live situation.
The journalists were eventually allowed entry into the locker rooms and received apologies from both the Jaguars and Colts PR teams. Still, what a way to celebrate diversity.
Citations: FEMALE JOURNALISTS KEPT OUT OF NFL LOCKER ROOMS IN INDIANAPOLIS (Awful Announcing), Three women temporarily barred from Jaguars locker room after the Colts game (The Indianapolis Star)