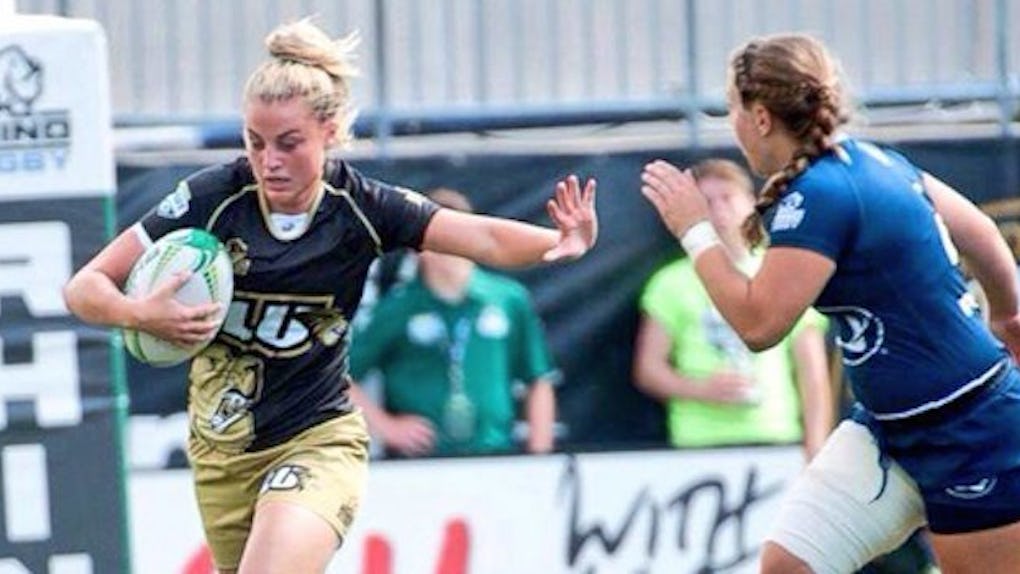 Twitter
15 Times Female Athletes Redefined What It Means To 'Play Like A Girl'
When German midfielder Alexandra Popp went around congratulating the US national team players last night, after the Americans' 2-0 semifinal win, it was a classy move.
It was also a pretty awkward sight, seeing as Popp was nonchalantly wearing blood around her face like a bonnet, having suffered a head collision during the match.
If that moment proved anything, it's that these women are tough.
And that's no shocker, really. At least it isn't to any human being who applies common sense while watching women's sports.
Alas, there are some people out there who, for one reason or another, need the reminder.
Like, people who are actually paid by reputable publications to cover sports. *Cough*
Here are the 15 times female athletes redefined what it means to "play like a girl":
When the "rugby war goddess" kept playing through a broken nose...
And then casually sneezed it away like it was nothing...
When Mo'ne Davis ruled the Little League World Series with her 70 mph fastball...
And did this to Kevin Hart...
When they prove playing women's rugby is just as terrible an idea as playing the men's game...
When Ronda Rousey was born...
When women's World Cup players have to suffer this as a result of tackling on turf...
This is @DrinkBODYARMOR athlete @sydneyleroux after playing on turf! #ProtectTheAthlete #USWNT http://t.co/e5NhMgwkCq pic.twitter.com/5jFpl12L8j — Kobe Bryant (@kobebryant) August 13, 2014
When Jennie Finch made Adrian Peterson look like he saw a ghost...
When you realize how much it takes to bring them down compared to their counterparts...
When former high school quarterback Erin DiMeglio proved her spiral's better than yours...
When Manon Rheaume played for the Tampa Bay Lightning and proved that sort of thing doesn't just happen in "Mighty Ducks" movies...
When Kerri Strug landed this crazy vault on a broken ankle to win a gold medal...
When Brittney Griner became a center who can run the floor and dunk on fast breaks like it's the norm...
When Serena Williams won the French Open while playing through illness at an age most tennis players should be out of their prime...
When France's U-20 team played this insane combo and bent it better than Beckham...