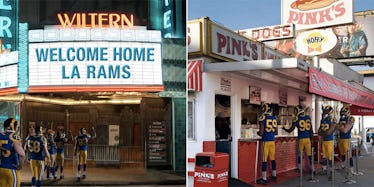 Everything Bandwagon Fans Need To Know About The Rams Playing In LA
Los Angeles is known for the three B's: blondes, burritos and bandwagon fans.
With the return of the NFL to LA after a two-decade absence, the Rams will be coming home to Southern California with a playoff-ready roster and new fair-weather fanbase unlike anything they had in St. Louis.
You see, the way California is set up is that if your team isn't doing well, people will just not give a f*ck. There's so much other fly sh*t to do that no one's going to waste their time and money to watch someone lose.
However, when you are poppin' (i.e. the Lakers from 1999-2002 and whenever they won a championship really), the fans are going to show up in full force, without really knowing what's going on. Then, it's the best place to play.
Here's everything you LA Rams "fans" need to know about your new home team.
The Rams were actually the first first professional sports team to play in Los Angeles from 1946-1994.
There was one point when Los Angeles had two professional football teams before the Rams and Raiders left the same year.
The Rams spent the past 21 years in St. Louis and won one Super Bowl in 1999 with Kurt Warner. As for the Raiders, well, they're still in Oakland.
This is the $1.9 billion stadium the Rams will play starting in the 2019 season.
The stadium has already been dubbed "The NFL's Disneyworld" and will include "an adjacent 6,000-seat performing arts venue, a 'Champions Plaza', a lake with waterfalls, retail and office space, a hotel, housing and 41,000 parking spaces within 1.5 miles of the complex," according to Forbes.
They will be playing at the LA Coliseum in the meantime.
Currently home to the USC Trojans, this is the historic site where the Rams will likely play until construction is complete. Though the facility is old as sh*t (it was built in 1923), there are expected $270 million renovations to take place between 2017 and 2019 as the team awaits its new digs.
Ticket prices will cost an arm and a leg, probably even more.
Last season, tickets to a Rams game in St. Louis cost anywhere between $300 and $1,700. We'd expect no less and definitely way more in LA.
The Rams are a decent team and have a true star in Todd Gurley.
When the Rams play their season opener, they will have a true workhorse in their backfield.
Todd Gurley is a physical running back with a similar playing style to Marshawn Lynch. Hopefully, he'll be as G as Beast Mode too.
The Chargers and Raiders still may move to Los Angeles too.
The San Diego Chargers have been given the option to think about joining the Rams in LA and have a year to decide. Both they and the Raiders are still exploring long-term stadium options and could end up in Los Angeles by the time the new stadium is built.
You can watch the Rams play in LA this September!
Once the 2016 NFL season starts, so do your Los Angeles Rams! Now go out there and support them, regardless if they win or lose.
Just kidding. If they end up losing, go find yourself a blonde and eat a burrito.