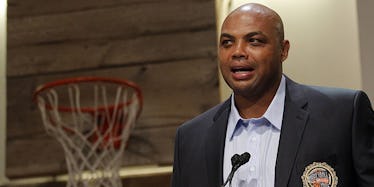 The ESPYs Proved What Charles Barkley Said About Black People Was Ignorant
REUTERS
The ESPY Awards must've been awkward for Charles Barkley.
After all, just a day before, the NBA Hall of Fame inductee had gone on the Dan Le Batard show and expressed his frustration with how black people "never" get mad about murders committed by other black people.
We as black people, we've got to do better. We never get mad when black people kill each other, which that always has bothered me … I've always said we as black people, if you want respect, you have to give each other respect. You can't demand respect from white people and the cops if we don't respect each other. We've got to do better as black people.
And yet, there he was on Wednesday night, a guest at sports' most high profile awards ceremony, where the most notable presentation went to a mom and her two sons who are fighting back against gun violence in Knoxville, Tennessee.
Incredibly moving tribute to the heroic #ZaevionDobson from his incredible mother. https://t.co/QszNiL29Uc — Laura King (@LK) July 14, 2016
Zaevion's mother isn't the only one who has marched in the name of ending gun violence, though.
In November, Chicago pastors went door to door asking citizens to "decry violence." Brothers of Alpha Phi Alpha, the oldest black fraternity in the nation, marched in the same city, in the same month and pretty much for the same reason.
In fact, a simple Google search will yield results of credible sources listing movements against gun violence in inner cities, specifically in response to people who wonder, "Where are all the movements against gun violence in inner cities?"
In an article titled "Why Don't Black People Protest 'Black-on-Black Violence'?," the Atlantic's Ta-Nehisi Coates listed "just a sample" of seven demonstrations in response to that question, which, predictably, was raised as people protested over the death of Trayvon Martin.
In an article titled "Black People Are Not Ignoring 'Black on Black' Crime," he did much of the same around the time of Michael Brown's death, for obvious reasons.
In an article titled "Chicagoans Actually DO Protest Violence In Their Communities All The Time," DNA Info's Mina Bloom and Jen Sabella catalogue another seven.
In an article titled "The big lie: African-Americans don't care about black-on-black crime," the Chicago Tribune's Dahleen Glanton works to debunk that myth.
And how much do black people care about crime in their own neighborhoods? As this Slate article notes, a 2013 survey done in conjunction by NPR, the Harvard School of Public Health and Robert Wood Johnson showed that "crime" is regarded as the most important issue in the community for African-Americans who were surveyed.
With such information so readily available, you might even wonder whether Barkley, or the many others who spout similar views on national TV any time black people have the audacity to prompt scrutiny of public servants, even had the integrity to genuinely search for an answer to their own question about black people fighting against violence in their own neighborhoods.
But there's no need to wonder about who has how much integrity in discussing issues about race.
Never mind, for a second, the fact that giving credence to superficial arguments like Barkley's distracts us from progressing towards the discussing the very real and underlying reality of police departments ability to use racial profiling as a tool for municipal profit.
Never mind the problematic way in which he talks about gaining respect from white people and police officers, as if they're somehow so morally devoid that they require arbitrary conditions to be met before they can respect others' humanity.
Never mind the fact the concession that "police have made some mistakes" regresses the conversation from a place where people are pushing for systemic change to a point where we naively discuss individual actions.
Never mind all of that.
This much we know, for sure. Barkley's comments about how black people "never" act against violence in their own neighborhoods, were the epitome of ignorance. The image of Zenobia Dobson accepting the Arthur Ashe Courage Award at the ESPYs, on behalf of her son, highlights that fact perfectly.