Mike Brown's Death Proves That Even Though It's 2014, Racism Is Alive And Well In America
It's a headline that feels all too familiar in this country, "unarmed black teen shot and killed."
On August 9, an 18-year-old named Michael Brown was shot and killed in Ferguson, Missouri. Brown was unarmed.
Ferguson is an impoverished suburb of St. Louis, with a majority African-American population. Following the shooting, protests began in the neighborhood, and eventually escalated into looting, vandalism and violent clashes between residents and the police.
Although many US cities have experienced rioting following similar incidents, St. Louis has never witnessed such clashes.
Thus far, more than 50 people have been arrested.
Eye witnesses contend that Brown was attempting to surrender when he was shot. Ferguson police claim that Brown was assaulting the officer, which prompted the shooting. According to some, the police fired an entire clip into Brown.
As of yet, the name of the shooter has not been released by the Ferguson police department.
However, an affiliate of the online hacking group, Anonymous, claim that they have acquired the name.
We know his name already. We are just trying to confirm and dox him. Everyone be patient, we don't want to be wrong. | @YourAnonNews — Operation Ferguson (@OpFerguson) August 12, 2014
Following the incident, the Federal Bureau of Investigation announced that it would investigate possible violations of civil rights in relation to the shooting.
This is the situation in Ferguson at present:
This looks more like a war-zone than an American town.
This photo from the Times really is incredible http://t.co/3uikNM6CNB h/t @conor64 pic.twitter.com/RdcmtxFLP5 — AdamSerwer (@AdamSerwer) August 12, 2014
The police are silencing the media.
SPREAD THE WORD and use hashtag #OpFerguson and #Solidary http://t.co/08PC51wtrB — Joseph Cooke III (@WordzOfWyzdom) August 12, 2014
Are the police going to utilize drones?
FAA just closed #Ferguson airspace "to provide a safe environment for law enforcement activities" http://t.co/qWW139Dv0s (ht @BlackSisyphus) — Matt Ford (@fordm) August 12, 2014
The situation is escalating.
Missouri police fired wooden bullets at crowd during protest over teen's death #Ferguson #MichaelBrown http://t.co/SpcqIFmbJS — M.X. (@M000X) August 12, 2014
The country may not have known about Ferguson last week, but it surely does now.
Nothing's changed through the years #Ferguson pic.twitter.com/zIWOgZHKIo — D_R_ (@ThatLatinGuy_) August 12, 2014
Hence, for all of those who would like to claim that racism is not still alive and well in the United States, wake up. This was not an isolated incident, and hardly the first time that something like this has happened.
And don't attempt to argue that African-Americans have a predisposition to crime either, for that makes you no better than the officer that pulled the trigger. Discrimination pervades the criminal justice system in the United States, one only has to look at mandatory minimums and incarceration rates amongst minority groups to realize this. Simply put, African-Americans aren't predisposed to crime, the criminal justice system is predisposed to arresting them.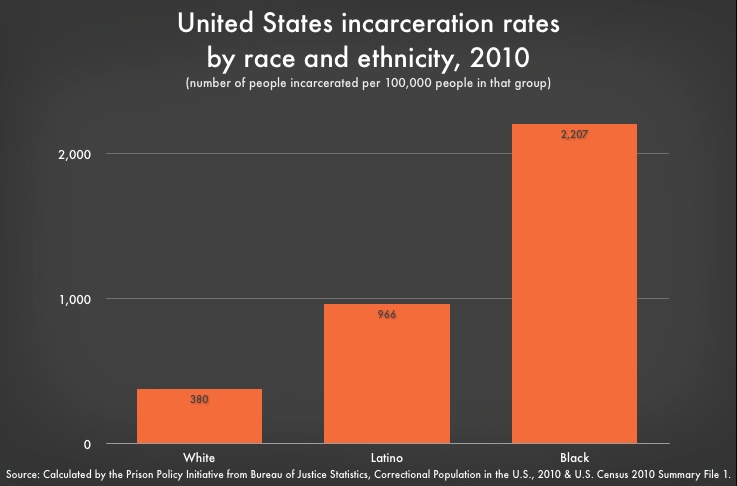 Why do we still live in a country where this happens? It seems to be the only logical question to ask, yet it's still exceptionally distressing.
More often than not, being black in America is an uphill battle; one only has to look at the history of the United States to acknowledge this. First, African-Americans faced centuries of slavery, followed by Jim Crow and the fight for Civil Rights. Now, in the 21st century, they face racial profiling and police brutality, and sometimes even death. Moreover, African-Americans are habitually stereotyped, particularly in the media.
I won't even begin to pretend to understand how difficult it must be to be an African-American in America, as I am a white male and the descendent of slave owners. I will, however, speak out when I see injustice. We can't change the past, but we can fight for a better future.
Likewise, this is hardly the first time that we have witnessed police brutality in the United States. We could go all the way back to the Jim Crow era, or highlight the brutal beating of Rodney King and the subsequent riots in Los Angeles in the early 90s.
Even recently, a black man named Eric Garner was killed when an NYPD officer put him in a chokehold during an arrest. The chokehold is strictly prohibited by department policy. Garner suffered a heart attack during the arrest.
A videotape of the incident reveals that Garner was telling the police officers that were holding him down that he couldn't breathe, but they didn't let up. He was arrested for selling untaxed cigarettes, a crime hardly worthy of such brute force. Garner had been arrested before, but never for violent crimes. His death was ultimately ruled a homicide.
The recent shooting of Brown, however, is more reminiscent of the killing of a Florida teen in 2012, Trayvon Martin. Although Martin was not killed by law enforcement, his death sparked national outrage and rekindled the debate surrounding racial profiling in the United States.
Ultimately, people are going to have strong opinions on these incidents. One side will argue that these individuals were probably doing something wrong, while the other will say that racism is to blame. The fact of the matter is, Martin, Brown and Garner did not deserve to die for the crimes they allegedly committed.
Furthermore, some might argue that no one deserves to die for committing a crime, no matter how bad it is. They particularly don't deserve to be shot in the street before they are even given a fair trial. That is not justice.
With that said, the death penalty itself is medieval, and most countries have abolished it. In fact, by retaining the death penalty, the United States is in the same class as countries like China, North Korea, Iran and Saudi Arabia. That's hardly something to be proud of. Simply put, capital punishment is barbaric and ineffective.
Therefore, regardless of the specific circumstances of each incident, racism is still evident across the United States.
In essence, America can be a very violent and racist country, and if we do not accept that, things will never change. Yes, we have come a long way over our short but storied history, but we still have a long way to go.
Photo Courtesy: Facebook