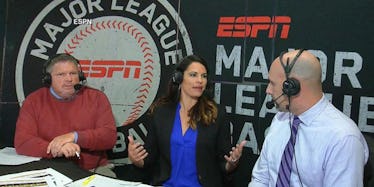 5 Ways ESPN's Jessica Mendoza Is Making Room For Women On The Field
ESPN
Jessica Mendoza, former All-American softball star and now ESPN major-league baseball announcer, made history Tuesday night.
She became the first woman to call a nationally televised playoff game.
This is amazing news for women in the sports industry, but some of our male counterparts don't seem to agree.
Many men have an issue with Mendoza calling games, and they're not afraid to make their opinions known. If you go on Twitter, you'll find countless tweets ridiculing Mendoza for her work.
Some people have a hard time accepting a woman in a "man's job," and others are just happy to ogle at her body.
It's all completely sexist.
A woman should be able to call a game without receiving derogatory remarks about whether or not she knows what she's talking about.
Mendoza got the job at ESPN for a reason, and she's here to stay. She shouldn't have to deal with men labeling her with sexualized names such as "Tits McGee."
It's absolutely disgusting and degrading. She didn't sign up for this, and she shouldn't have to deal with these comments in such a professional setting.
Here are the five reasons why Mendoza is my inspiration, and why she shouldn't listen to the haters.
1. She doesn't care what others think.
If Jessica cared, she would've quit a long time ago. But, she hasn't.
Sorry, boys. Jess is here to stay.
2. She is breaking down barriers in a male-dominated field.
Jessica achieved the incredible ability to call an American League Wild Card game. She is the first female to do so, but she certainly will not be the last.
3. She owns the press box.
Being a woman in this line of work is rare, and it's even more rare if one knows the sport well.
Jess knows enough from her softball background to call a game, and she's a natural. So, leave her alone, gentlemen.
4. She doesn't try too hard.
If you watch some female sports reporters, you may find yourself looking at tall, blonde "Barbie dolls."
Jess doesn't try to fit in with the rest of the 20-year-olds, and she doesn't just give men what they want. She does her own thing, and she does her job well.
Even her outfit choices speak to her character, and I love them.
You won't find her in a skimpy, provocative outfit.
5. She doesn't take the opinions of men to heart.
Obviously, being in a male-dominated field, some men are going to eat her alive. They don't want her in their area of expertise, but she could care less.
The way she rolls the opinions of others off her back impresses me, and it's a trait I wish to attain as a future sports broadcaster.
Men, I'm sorry, but it looks like you're going to have to get over Jessica being on ESPN. She's not leaving, and there will be plenty more female reporters to follow her (like me).
Jessica, just keep doing your thing.