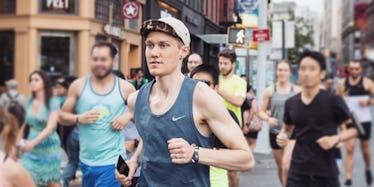 This Man Made History As First Transgender Athlete In ESPN's Body Issue
Instagram
When ESPN's Body Issue comes out every year, it always gets attention. But this year, one athlete made history by appearing in the special issue.
Athlete Chris Mosier is the first transgender man ever to appear in the Body Issue, which will be out on July 8.
Mosier has been breaking down barriers since his transition in 2010, when he started competing as a male. Before becoming the first trans man to appear in the annual ESPN Body Issue, he was the first out trans man to qualify for a US national team.
Mosier earned a spot on the Team USA sprint duathlon men's team for the 2016 World Championships. He had previously competed as a triathlete before his transition and still continues to compete in triathlon events.
One of his biggest hesitations before making the transition from female to male was how it would affect his competition in sports. Up until then, he competed in female category races even though he didn't identify as a woman.
Mosier says he's finally comfortable with his body. In his interview with ESPN he says,
For 29 years of my life, I didn't want to be in pictures because what was reflected back to me was not the way I felt or the way I saw myself. I struggled with that for a really long time -- of not even wanting to be in photos at all. And so now, to be at a point where I not only want to be in photos but with no clothes in photos is tremendous.
The photo of Mosier in the Body Issue, where you can clearly see his muscular physique as well as his scars from breast removal, is one huge step toward demystifying the appearance of trans bodies.
Mosier is well aware of how his exposure in the issue will help other trans people who want to compete on a high level in sports. He's the founder of transathlete.com, a website dedicated to helping athletes navigate the vague and confusing policies in sports when considering or going through a gender transition.
You can read Mosier's full interview here.
Citations: Breaking boundaries: Trans triathlete Chris Mosier proudly bares his surgery scars as he becomes the first transgender person to pose nude in ESPN Magazine's Body Issue (Daily Mail), Chris Mosier: 'I finally feel very comfortable with my body' (ESPN)