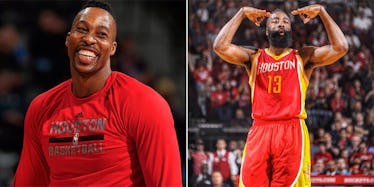 Do The Houston Rockets Even Need Dwight Howard Anymore?
Instagram
It's been the rallying cry of teams that employ Dwight Howard over the past five years: He's coming back.
At what point do teams stop with the optimism? At what point do we have to wait for Howard to affect the game before being excited for his return?
The Houston Rockets are about to bring Howard back, in limited minutes, in order to have him ready to for the playoffs.
So, it seems Dwight Howard is coming back.
Howard has missed the last two months of the season due to fluid in his knee, and he also missed a month near the beginning of the season.
He's played in 32 games, scoring 16 points and pulling down 11 rebounds. Those are solid numbers, and he was slowly asserting himself as one of the best centers in the league, looking healthy on the heels of a fantastic playoff series.
Dwight Howard was a dominant force in last year's playoff series against the Portland Trail Blazers. He averaged 26 points and 13.7 rebounds.
The Rockets lost in six games because Damian Lillard is the grim-reaper and also because Howard couldn't guard LaMarcus Aldridge, who averaged 29.8 points and 11.1 rebounds. He was pulled away from the basket and couldn't guard him in the open court.
Now, the Rockets are looking at a first-round series against the San Antonio Spurs, Los Angeles Clippers or the Dallas Mavericks. Each team has some dynamic big men who will challenge Howard in various ways.
DeAndre Jordan, Tiago Splitter and Tyson Chandler will bang with Howard down low and test those knees and his back. Tim Duncan and Dirk Nowitzki will pull Howard away from the hoop, challenging his mobility.
The other issue with Howard returning is he might not be 100 percent ready to play. After last night's game, Kevin McHale spoke about Howard's return to the Houston Chronicle:
We are so down on bodies and we don't have a lot of practice time. We might have to start throwing him out there and letting him get some minutes in the game, whether he starts out 15-20 minutes and getting game time. But he has to start playing here pretty soon because otherwise the season is just going to go by and you can't wait for the playoffs to come back, so we'll see.
Once again, we've been down this road before with Howard; he rushes back, he doesn't play hard and then he makes excuses.
The Houston Rockets defense was superb with Howard in the lineup, but it hasn't been much different since he was injured in January. They are still a top seven defense, according to their Defensive Rating on NBA.com.
From October to January, they allowed 99.8 points per 100 possessions. Since January, that number has gone up to 100.4.
The Rockets were 30-14 (.681 winning percentage) when Howard was sidelined with his knee injury. They've gone 17-9 (.607) without him. There's been a slight drop in winning percentage since he was hurt.
The miraculous thing is the Rockets have done that without a legitimate center. It's embarrassing how little they've gotten out of their two centers on the roster, Joey Dorsey and Clint Capela.
Those two have combined to average 2.3 points and 5.1 rebounds per game. Yikes.
Obviously, power forwards Josh Smith, Donatas Motiejunas and Terrence Jones have picked up much more of the slack. They have a combined score of 36.6 points per game.
This is another place where Howard's return could be helpful for the Rockets. Howard will allow players to play in their positions a little more freely.
Meanwhile, Coach McHale knows some good lineups he can use without Howard, if he ends up ineffective or hurt again because they rushed him back.
Yes, Dwight Howard is coming back. Yes, his toughness is in question.
However, if he can coexist with a ball-handling scorer in James Harden, stand up to some of the best big men in the league and be an effective second banana, then maybe, just maybe, Howard's return will be a good thing for the Rockets.
Here we go again; Dwight's coming back.