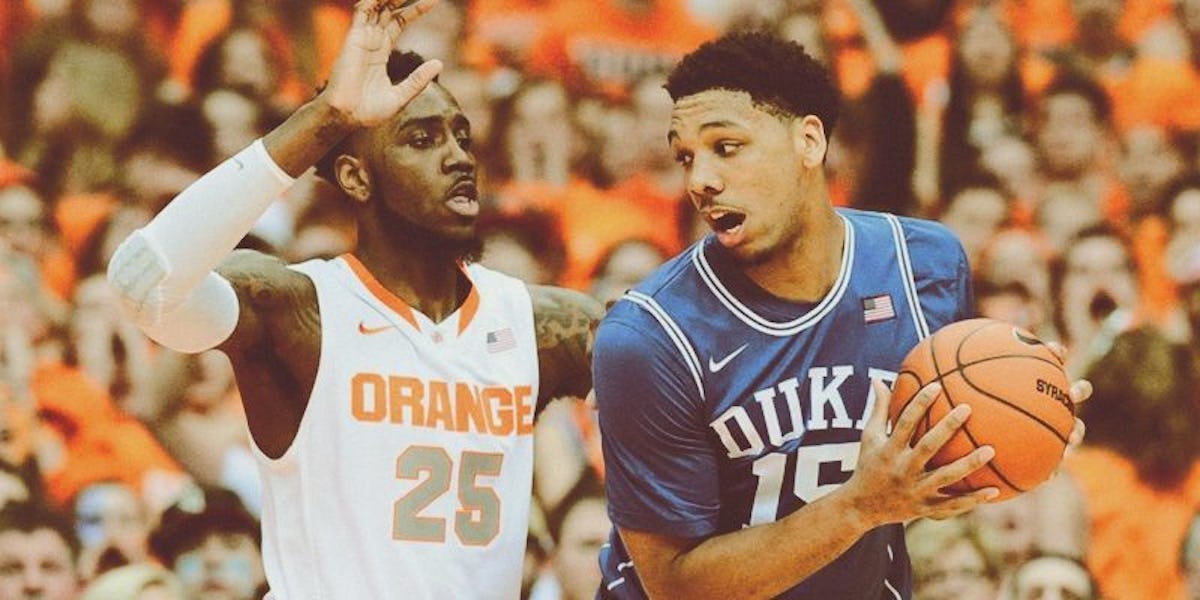 6 Reasons Duke Vs. Syracuse Is The Next Great College Basketball Rivalry
Twitter
When Syracuse moved to the ACC last season, college basketball fans new they would be in for a treat.
The Orange's move from the Big East meant the demise of one of the most storied conferences in college basketball. However, it also meant another storied conference, the ACC, was about to get even better.
In the first two years of the move that brought Syracuse and Pitt to the ACC, the conference has gotten a lot more exciting.
Most of it is due to the new rivalry between Duke and Syracuse, which is shaping up to be one of the best in all of college sports.
Here's why:
Two Hall of Fame Coaches
Coach K is the greatest college basketball coach of all time, and getting his 1000th victory this season solidified him at the top.
However, a lot of people forget the man directly behind Coach K in the win column is the man on the other bench, heading up the Orangemen.
These two coaches have been killing it for decades at their respective schools, and will continue to kill it until they retire.
They've already played a few instant classics.
Last year's first matchup between Duke and Syracuse was easily one of the most entertaining college basketball games of all time.
Boeheim getting ejected after a questionable call in their second matchup was also an unforgettable moment. Syracuse couldn't quite pull of the upset, but they still gave us an entertaining game.
Fans can tell how much both teams want the win when they play each other. We're in for a whole lot more classic moments when these two squads take the court.
Both teams are perennial contenders.
With the exception of Syracuse's lackluster season this year, plus their self-imposed post-season ban, both teams are pretty much always guaranteed to make the NCAA tournament.
On top of that, both teams are huge threats, and will definitely do some damage in the Big Dance.
Record Attendance/Viewership
With all the hype surrounding these two big name teams, it's no surprise people want to watch them play.
The all-time highest attendance record for an on-campus college basketball game was set by Syracuse University at the Carrier Dome. When Duke came to town last year, they matched the record easily when 35,446 fans filled the Dome to witness history.
It brought us this legendary "I'm Shmacked" video.
The video kind of speaks for itself. Syracuse University was too turnt for that first Duke game.
Best Fans in College Basketball
The Cameron Crazies and Otto's Orange are some of the most dedicated fans in college basketball. Both fan bases stand by their teams no matter what, and have wild traditions that they keep going, year after year.
Plus, they have fans like this guy: