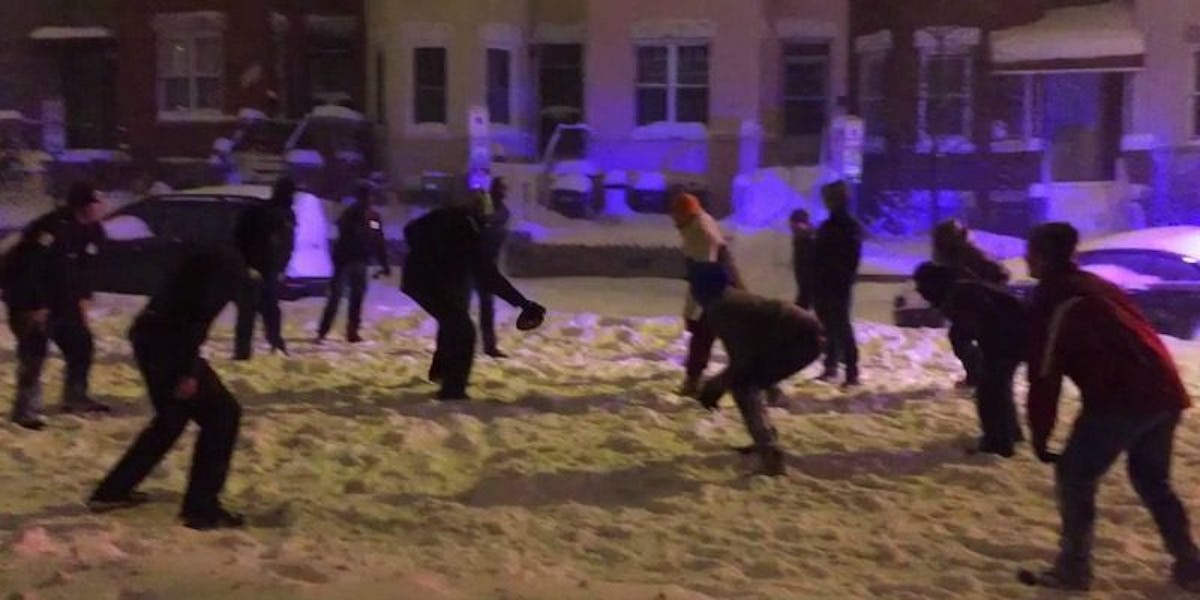 The DC Cop Who Stiff-Armed A Guy Allegedly Wants An NFL Player To Hit Him
Earlier this week, Elite Daily shared the story of James Justice Haynes, the guy who became an Internet sensation after taking a vicious stiff-arm from a Washington DC cop in a football game played during Winter Storm Jonas.
Haynes recounted how a group of DC cops first arrived on the scene because of a noise complaint.
Soon enough, though, an epic game took place with both cops and civilians, and Justice eventually ended up on his back after taking a vicious stiff-arm from one of DC's finest.
He told Elite Daily,
It all happened very fast but I distinctly remember hesitating as he barreled toward me... He took [me] by complete surprise and hit me right below the neck with a vicious stiff-arm, which sent me sprawling as he blew right past me.
Soon after I spoke with Haynes, I was approached on Twitter by a man claiming to be a friend of the DC police officer who applied the notorious stiff-arm.
Benny Chains, according to his Twitter handle, said his friend wanted to "make things right" by getting stiff-armed back... by an NFL player.
@silversurfer103 The stiff-arm DC cop is a friend he'd like to get stiff-armed in return by sm1 in NFL to make things right. make it happen? — benny chains (@bennychains) January 27, 2016
I messaged Benny, asking if the DC police officer wanted to share his account of the event, but Chains only seemed interested in getting an NFL player to hit his friend. In particular, he wanted to know if I had any contacts with the Washington Redskins, presumably because the DC cop would prefer to be stiff-armed by a member of the team he roots for.
Admittedly, I don't have any contacts at the Redskins' organization, but if anyone out there reading this does, feel free to hit up Mr. Chains.