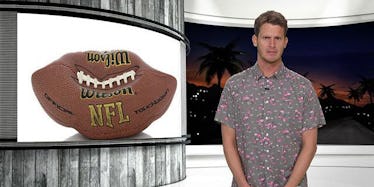 Daniel Tosh's Super Bowl Rant Might Be Better Than The Super Bowl (Video)
Super Bowl XLIX has come and gone, but as many of us noticed, Daniel Tosh had yet to give his opinion on the big game.
That was until he went all out on yesterday's episode of "Tosh.O."
The Lane Kiffin doppelgänger completely ripped Robert Kraft, Tom Brady and the Patriots, giving America some real perspective into the legacy of New England.
I'm not saying the Patriots weren't the best team in 2015, but it's always good to hear some good old hate for the Yankees of football.
Chill out about Gisele, though.