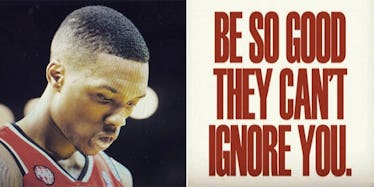 Damian Lillard And The 5 Biggest Snubs Of The 2015 NBA All-Star Game
Instagram
The NBA All-Star Game has a system in place that allows fans from all over the world to vote for their favorite players to start in the game. This is a fun and delightful concept, except when it starts to compromise who should be in the event.
There are often some glaring examples, but this year, it is pretty obvious: Kobe Bryant in the West and Carmelo Anthony in the East.
Both are tremendous players who have had outstanding careers. However, their popularity has, once again, trumped their total team and on-court efforts.
Neither should be starting in the All-Star game, and yet, there they are, front and center, pegged as elite amongst their contemporaries.
Granted, Bryant will miss the event with injury, but moments like these show that the system is flawed, and perhaps, fans should have less of a stake in the game.
When players unfairly get thrown in, inevitably, great players get left from the list. There just are too few spots for so many great players.
Here is a list of six snubbed guys who should be going to New York for the All-Star Game:
1. Damian Lillard, Portland Trailblazers
For someone who is one of the faces of the NBA, he doesn't seem to get treated like one. He's possibly the most shocking snub of all, and this is a bit of a head scratcher.
Lillard averages at just under 22 points per game, which makes him good for 12th in the League.
All 11 players ahead of him are All-Stars. He is third among Point Guards in PPG, only behind Stephen Curry and Kyrie Irving.
His numbers last year, for example, were impressive: 20.7 points per game, 5.6 assists and 3.5 rebounds. This year, Lillard has actually increased in all three categories by one full point a game while playing virtually the same minutes.
So, he improved but still got snubbed. Whenever there are massive snubs, the logical question to ask is who made it over him?
The natural selection here would be Chris Paul. Tough to argue with Paul here, as he averages a gaudy 9.7 assists per game. Lillard might have Paul in PPG (17.5), but Paul being on the team is not an egregious blunder.
However, the number of ridiculous plays Lillard makes while pretty much carrying his team on his back nightly makes it hard to understand how this guy isn't an All-Star.
All is not gloomy for the Video Game Dame, though.
He is one of the faces of State Farm; his team is poised for a deep playoff run, and Kobe Bryant is out for the year, so we could very well see him in the All-Star Game, after all. Lillard's place among the elite guards in the league, however, has been solidified for quite some time.
2. Nikola Vucevic, Orlando Magic
The biggest knock against this guy is that he's playing in Orlando, which has been an utterly forgettable basketball market for last few years.
It's hard to get noticed playing for the Post-Dwight-Howard Magic. He represented a homegrown, franchise player, who was the face of the team. He represented hope and optimism.
However, those days are over, and we are left with a puzzling, yet fascinating, 2015 Orlando Magic team.
They definitely have something in Victor Oladipo, who is figuring out how to play point guard and developing a decent outside jumper. He doesn't quite have his passing game down, but he's picking things up pretty quickly.
Still, the most important Orlando Magic player is, far and away, Nikola Vucevic. He is among the league leaders in double-doubles, and if nothing else, briefly ended Pau Gaol's life with this nasty slam.
3. Kyle Korver, Atlanta Hawks
You know the story by now: The Atlanta Hawks went from sneaky good to underrated to being the darlings of the NBA. They have gotten their national recognition and now, have three well-deserved All-Stars.
You can make a legitimate case for the breakout star, Kyle Korver. In his 11th season, the sharp-shooting Korver reinvented himself and is literally having the best season of his career.
Korver has always been one thing on the four teams of which he was a part: a great outside shooter who is lights out from the free throw line. He has been a specialist throughout his days in the league. But, this year has been something quite different.
His per game averages won't wow you (13 PPG, 4 rebounds, 3 assists), but he is flirting with a distinction no other player has ever touched before.
You are probably familiar with the 50-40-90 Club. It's an entire season averaging 50 percent from the field, 40 percent from three-point range and 90 percent from the free throw line. It is an elite club that only has six members in it. Steve Nash, incredibly, has done it four times.
The other five are Larry Bird, Mark Price, Reggie Miller, Dirk Nowitzki and Kevin Durant. This is about as rare as it gets in basketball, combining sharp shooting and efficiency.
Kyle Korver may very well enter the club this year, which would be a marvel in itself. However, as it currently stands, Korver is at 52 percent from the field, 53 percent from the three and 92 percent from the line.
The 50-50-90 Club? It doesn't exist.
Korver could become the first player in history to boast those stats. So, while Korver's splits aren't exactly superstar-worthy, or even All-Star-worthy, he is having a historic season. Whether that is worthy of an All-Star berth is up to Adam Silver to decide.
4. Andre Drummond, Detroit Pistons
This one was disappointing for me. At 21 years old, Andre Drummond is having a break-out season. When Drummond came out of Connecticut, he was tagged as "raw," which never deters teams from drafting guys.
However, it can be a crutch scouts and analysts use to simply excuse themselves of further evaluation. But, Drummond has the physical tools to be an absolute force in the league, and he has quickly started to impose his will on anyone and everyone in the NBA.
This is Dre's second straight season of averaging at least 12 points and 12 rebounds a game with at least 1.5 blocks, as well. His free throw percentage isn't great, but everything else he brings is off-the-charts good.
His 12.8 boards per game is good for second in the NBA and has been a huge reason the Detroit Pistons have had a resurgence this season. That, and Josh Smith getting cut.
But, more importantly, Drummond has blossomed into an every-night monster down low. For a team fighting for a playoff spot, I thought he had a legitimate chance at making the all-star team.
Tough to say who Drummond would have made it over, however. While Chris Bosh has his detractors, he has been pretty extremely solid this year, thus far.
Averaging nearly 22 points per game, you won't hear too many complaints about why he was named to the team. Still, good times are ahead for Drummond.
If he can improve his low post-game and his free-throw shooting, there's no reason he can't average 20/12 and be a perennial All-Star for years to come.
5. Draymond Green, Golden State Warriors
The Golden State Warriors have the best record in the NBA. Their road record is ridiculous, and they are a nightmare to play against every night.
If you were to say Stephen Curry and Klay Thompson were the most important players, you'd be right. But, even as third best player, Draymond Green is still playing at an All-Star level.
His numbers might not be flashy, but he is an above average role player on a championship-level team. He is a very good outside shooter, which makes him a difficult matchup for pretty much anyone guarding him.
Since he came in the league, he has gotten in great shape and has become a great small forward. However, he is now playing at an extremely competent range at power forward.
He keeps his defenders honest with his shooting and plays very solid defense. He's a guy you want on your team, and in a different scenario, he might be someone's second-best player. For now, he's still making strides, but I think he is very close to his first All-Star game.
6. Brandon Knight, Detroit Pistons
Often, certain guys don't make the All-Star team because their teams just aren't any good. The goal is to reward guys who are doing well on winning teams.
On some occasions, you can be doing great on a winning team, but still be left out. Such is the case with Brandon Knight this year.
He is averaging an impressive 18/5/4 stat line for one of the biggest surprises in the league this year — the six-seeded, seemingly playoff-bound Milwaukee Bucks.
Among eastern conference point guards, Knight is fifth in points per game, and the only player in his position who shoots better from the three-point line is Kyrie Irving.
Knight is also shooting an impressive 89 percent from the free-throw line, which would be the best among PG's in the East if it weren't for teammate Jerryd Bayless' ridiculous 93.8 percent (although, he plays and shoots far less than Knight does).
Bottom line: There are just too many good players for Knight to make the field, even with the team playing very well.
The only player comparison would be Jeff Teague, but Atlanta has been incredible this year and it is hard to justify Knight making it over JT.
All things considered, this was a solid year for Knight, and in a weaker year, he might have made it.
The future looks bright for the Bucks — let's see if they can keep it going in the second half.
Honorable Mention: Jonas Valanciunas. Again, with so many talented players, snubs are inevitable.
The moral here is simple: If you're talented and on a good team, you still might get left off the All-Star ballot.
Another great example is DeAndre Jordan who deserves a lot of love and consideration, too. Will Adam Silver make a change to allow the very best on the roster and leave less margin for error in the future? Stay tuned.