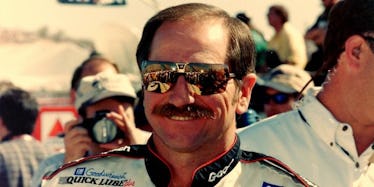 8 Dale Earnhardt Quotes That Will Inspire You To Put The Pedal To The Metal
Fifteen years ago today, the world lost Dale Earnhardt. And the racing community hasn't been the same since.
Dale's son, Dale Earnhardt Jr., is still keeping the Earnhardt racing tradition alive, but no one has walked pit road and raced the NASCAR circuit quite like "The Intimidator."
Sh*t, if that nickname doesn't tell you all you need to know about Dale Earnhardt, I don't know what else will.
Over the course of his illustrious career, The Intimidator won 76 Winston Cup races, including the prestigious Daytona 500. He's also tied with Richard Petty for most all-time NASCAR Winston Cup championships.
Ultimately, though, it was Earnhardt's passion for racing that led to his death. On February 18, 2001, while racing the Daytona 500, he suffered what would be a fatal basilar skull fracture after crashing in the final lap of the race.
Since his passing, Dale Earnhardt has received numerous honors and accolades, including his induction into the NASCAR Hall of Fame in 2010. The best way to keep his spirit alive is by remembering not just his passion for racing but his zeal for life.
If you need to light a fire under your hood, check out eight quotes from Dale Earnhardt that will inspire you to put the pedal to the metal.
"Second place is just the first loser."
It feels like there's a prevailing idea among Millennials that trying your hardest is good enough. You know what, an "A for effort" will only get you so far in life. Life, like NASCAR driving, is a race, and everyone wants to finish first.
We all want the highest-paying job, a hot significant other who loves us and a dope house to come home to every night, but you only get those things by grinding and hustling.
"You can't let one bad moment spoil a bunch of good ones."
Life hits you with moments of adversity. Like a boxer, it's about how we deal with these blows that will come to define us in the end. Do we curl up in the corner and crumble, or do we take the hits and persevere?
No matter how bad things seem, there is always another day. And when you think you have nothing going for you, take a moment to remember life's simple pleasures.
It's so important to keep everything in perspective.
"You win some, you lose some, you wreck some."
Not everything is black and white. And not everything can be chalked up to a win or a loss. Sometimes, we don't just lose, we crash and burn, and that's OK. For some of us, we need to hit rock bottom before we can rise from the ashes like a phoenix.
Winning is obviously great, but losing can carry its fair share of lessons, too. And a complete collapse and recalculation can sometimes be the quickest way to figure things out in life. Instead of trying again or rebuilding, maybe you just need to move in a completely different direction. You never know until you try.
"Finishing races is important, but racing is more important."
You've heard it countless times before, but life really is all about the journey. You only get one go-around, and if you spend the whole time thinking about the finish line and where you want to be, you'll probably never even get there -- at least not in the way you envisioned.
Life can be tough, cruel and bewildering, but it's also a beautiful gift. Laugh, smile and, even though success is a major key, don't forget to enjoy the road to getting there.
"I've had confidence in myself all along. It was just a matter of getting the pieces back in place."
As any successful individual will tell you, confidence is king. In order for others to believe in you, you have to believe and trust in yourself. Those who exude confidence usually exude calmness, which is also necessary for success.
If you have confidence in yourself, it really is a simple matter of putting the pieces in place.
"You've got to be closer to the edge than ever to win. That means sometimes you go over the edge, and I don't mean driving, either."
If you want to stand out from the pack, you have to do something to get people's attention. Sometimes, that means stepping out of line, bending the rules and pushing the limits.
Don't be afraid to ask questions, push the boundaries and take risks. The worst thing you can do is fail, and that's far better than not trying in the first place. And who knows, you might just succeed.
"It's a never-ending battle of making your car better and also trying to be better yourself."
We should always strive to be better at our craft, no matter what. I've stocked shoes, taken out trash and dealt with assh*les from every walk of life and even though I definitely didn't want to at times, I always gave it my all.
Striving to be better at your job and striving to be a better person aren't mutually exclusive. You can't turn off a solid work ethic and a positive attitude after your shift is over and you go home for the night. Working hard, professionally and personally, is a never-ending battle, but you get out what you put in.
"I woke up this morning, and I still don't believe I won the Daytona 500."
Stay humble. Most of us will never get to race the Daytona 500 (not that I think I'd want to), but we'll all face our own Daytona 500 at some point in life. And after you conquer your race, you'll feel like king or queen of the world -- as you should.
Never let your ego get too big because there's always another Daytona 500 to race. And win.
Citations: Dale Earnhardt > Quotes (Good Reads), DALE EARNHARDT QUOTES (Inspirational Stories), Dale Earnhardt Quotes (YouTube)