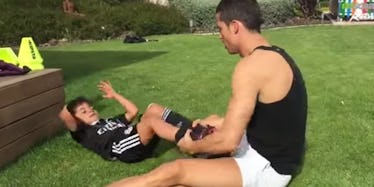 Cristiano Ronaldo Working Out With His Son Will Make Your Heart Melt (Video)
Cristiano Ronaldo and Real Madrid may have been eliminated from the Champions League this week, but that doesn't mean the Portuguese superstar is already thinking about his summer vacation plans.
No, Ronaldo decided to get over the loss by hitting the backyard for an ab workout. And he brought his young son with him.
This video is incredibly awesome because we sometimes forget the world's biggest superstars are regular human beings, too. This is just a dad -- granted, a ridiculously chiseled one -- playing with his son.
The kid is definitely being groomed to be Madrid's next great striker, though.
Citations: Cristiano ronaldo Working out with his son (YouTube)