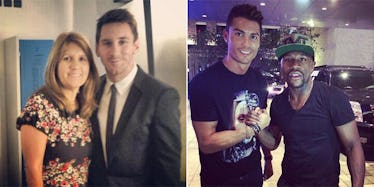 Ronaldo And Messi's Lives Off The Field Are Completely Opposite
Instagram
Messi's recent heroics are starting to remind everybody exactly why he's the best fútbol player in the world.
Try telling that to Cristiano Ronaldo.
When it comes to naming the greatest soccer player of our generation, it's always going to come down to these two men.
While most athletes are judged by their play on the field, these two polarizing figures will also be graded by their lavish lifestyles off it.
Messi is playing like he's the best player in the world right now.
Cristiano Ronaldo is just mad everybody feels that way.
Because everything Messi can do...
Ronaldo thinks he can do better.
When it comes to life off the field, who's really winning?
Messi has been preparing for this moment his whole life...
Ronaldo has been too, it just wasn't as pretty.
Of course, he turned that around as soon as he got some money.
Now, he'll take your girl in just a matter of seconds.
Cristiano recently broke up with supermodel Irina Shayk.
And has been dating Playboy model Daniella Chavez...
Soccer reporter Lucia Villalon...
And TV host Vanessa Huppenkothen, to name just a few.
Messi is more of a one chick type of guy, and is married to Antonella Roccuzzo.
That's the baby mama right there!
Make no mistake about it, she's a keeper!
Ronaldo is the second richest athlete in the world (behind Mayweather) and worth $250 million.
With that fortune, he's able to ride around in some sick Ferraris...
Buy himself some new Rolls Royces...
Launch an exclusive underwear line...
And, of course, he has his own plane sponsorship.
Messi is a little behind with about $180 million to his name.
He likes to live it up, too!
Only, more so with the family.
Messi has proved fatherhood is very important to him at this stage of his career.
Cristiano is a great father, too, and his son might just be next in line.
It's safe to say Ronaldo's fame makes it hard to focus on his game sometimes.
That's not to say Messi doesn't have his fair share of distractions...
But Ronaldo's are on another level.
Whether you're team Messi...
Or team Ronaldo...
Both players will always be connected by what they do.