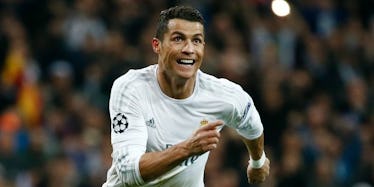 Cristiano Ronaldo Beat Out This Star To Top The List Of Highest Paid Athletes
Reuters
The rivalry between Cristiano Ronaldo and Lionel Messi is probably the most fierce in all of soccer. Ronaldo and Messi, two goal-scoring machines, play for the top two teams in Spain, Real Madrid and Barcelona, respectively.
Each season, these two fight for more team trophies and individual accolades than any other soccer stars on the planet. Anything you can do, I can do better, right?
The latest battle between Ronaldo and Messi didn't take place on a soccer field, though.
According to reports, Ronaldo just beat out Messi for the title of highest-paid athlete in the world.
In the last 12 months, Ronaldo reportedly earned $88 million, while Messi supposedly racked up $81.4 million. Sure, both of these guys made more than we'll probably ever see in a lifetime, and the margin between their yearly takes is pretty minimal, but everything between these two is a competition.
This round, it appears, goes to Ronaldo.
According to Forbes, Ronaldo's contract with La Liga giants Real Madrid is worth $50 million a year, not including bonuses. Ronaldo also earns $13 million per year with Nike, as well as an additional $19 million through various other sponsorships.
LeBron James, Cam Newton, Jordan Spieth and others join Ronaldo and Messi on the list of highest-paid athletes.
You can check out Forbes' full breakdown of the world's highest-paid athletes here.
Citations: Cristiano Ronaldo ahead of Lionel Messi as highest-paid athlete - Forbes (ESPN FC)