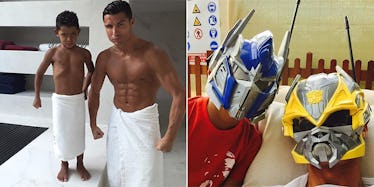 Cristiano Ronaldo Is Already Teaching His Son How To Show Off His Abs
Real Madrid forward Cristiano Ronaldo is no stranger to showcasing his abs for the camera -- or to finding a girl's cell phone and inviting her and her best friends to a posh dinner in Vegas.
And by the looks of it, that's a skill the 30-year-old is looking to pass on to his young son.
Remember, son, first comes playing with "Transformers" masks, then we shower up and show off our abs for the ladies.
If there's a better way to wrap up the work week than playing "Transformers" followed by a post-shower abs selfie, well, I for one don't want to know about it.
We're also looking forward to all the awesome goalscoring celebrations that are right around the corner.
Citations: Cristiano Ronaldo taught his son the fine art of the ab photo (SB Nation)