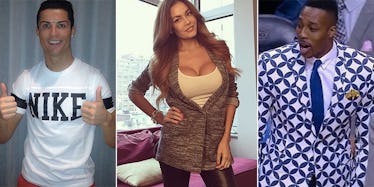 Cleats And Cleavage Is The Sports News Your GF Will Absolutely Hate
Instagram
Nothing against "SportsCenter," but the CNN gimmick is getting old.
Sure, the new state-of-the-art set worth about $125 million is nice, but the way we consume the information hasn't changed at all.
It's 2015, and it's time for some real reporting, bold predictions and, of course, Muff Mondays.
Enter Ava Fiore, aka Cleats and Cleavage.
An emerging leader in reporting sports news, the former model and sports junkie delivers everything you need to know in the sports world -- all while being half-naked!
Ava is a huge Liverpool fan and will always keep you up to date with the Mighty Red.
And don't be fooled; Ava knows what she's talking about.
The Premier League, the UFC, NBA basketball and, of course, NFL football are some of the most-covered topics.
She delivers the latest news when it happens and always has her ear to the pulse. Oh wow, is that Fruit Roll-Up?!
Now, I know what you're thinking. She's wilding out and just doing this for attention.
Well, I dare you to say it to her face because this woman is a former NY Golden Glove Boxing Champion. Seriously. It says so on her Instagram bio!
She's a rising star and is only getting bigger on Instagram.
Yes, this is the future of sports reporting, and whether you respect it or not, you must give her a follow.
If not, you'll be missing out some very important sports information you won't be able to find anywhere else!
Unlike many sports outlets, she reports on soccer regularly. Oh look, a Teabag Tuesday!
Tell us more, please!
Who doesn't love a good old-fashioned Muff Monday?
Salami Sundays? Now I've seen it all!
Of course, there's Whipped Cream Wednesdays. Duh!
What more do you people want?