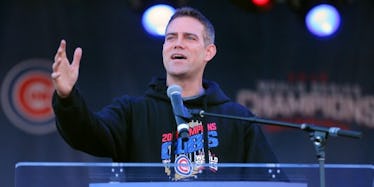 Chicago Cubs President Shares The Sneaky Key To Finally Landing Your Dream Job
USA TODAY Sports
Are you currently sitting at your desk feeling undervalued, overworked and underpaid?
Or, maybe you're working some 9-5 you can't stand getting up for every morning.
If anything I've said so far even remotely applies to you, then you'll want to keep reading to discover the amazing job advice Chicago Cubs President of Baseball Operations Theo Epstein recently revealed.
If you're not an avid sports fan, you can certainly be forgiven for not knowing who Theo Epstein is.
In fact, this is a man who -- I'm almost certain -- would rather keep his name out of the headlines while he quietly crushes the competition from behind the scenes.
For most, the 43-year-old didn't become a household name until it was revealed he was the man behind the Boston Red Sox's World Series titles of 2004 and 2007; the first of which was the organization's first championship since 1918.
Yeah.
In 2011, Epstein signed a five-year, $18.5 million deal to join the Chicago Cubs. Last October, the Cubs won their first World Series since 1908.
Sensing a pattern here?
To put it bluntly, wherever Theo Epstein goes, he wins. So, what's the Yale University alum's secret? How did he become one of the most coveted and successful executives in sports history?
Speaking with David Axelrod on "The Axe Files" podcast recently, Epstein revealed his sneaky key to landing your dream job. Let's call it the "20 percent" rule.
He said,
Whoever your boss is, or your bosses are, they have 20 percent of their job that they just don't like. So if you can ask them or figure out what that 20 percent is, and figure out a way to do it for them, you'll make them really happy, improve their quality of life and their work experience.
This is amazing, and if you're able to lock in and access that 20 percent, Epstein says you'll gain "invaluable experience for yourself."
The 43-year-old Cubs president added,
If you do a good job with it, they'll start to give you more and more responsibility.
You're welcome.
Citations: Chicago Cubs President Theo Epstein shares his 20% rule for getting ahead in your career (CNBC)