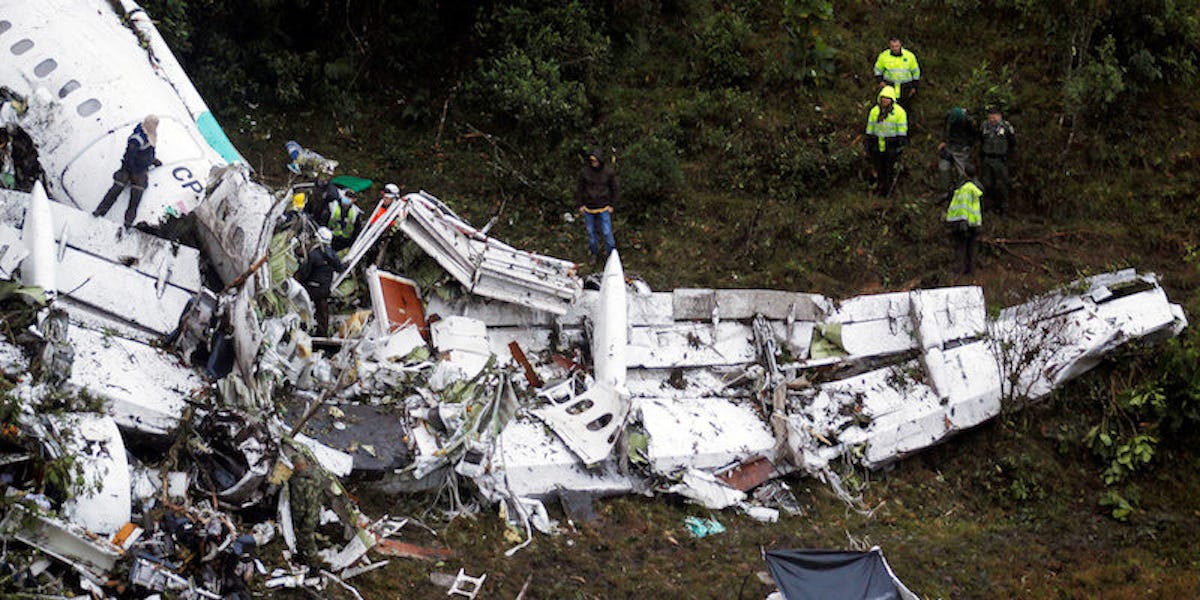 Painful Pic Shows Moment Soccer Players Learned Teammates Died In Plane Crash
REUTERS
A painful photo has emerged showing the moment Chapecoense Real soccer players learned their teammates died in a plane crash.
A total of at least 71 people are reportedly dead after the aircraft went down near the town of Medellin in Colombia at around 10:15 pm on Monday.
Among the initial survivors were three members of the Brazilian soccer team — Alan Ruschel, Danilo Padilha and Jackson Follmann — but Danilo, the team's goalkeeper, died soon after in the hospital.
As the news unfolded, a photo was taken from inside the Chapecoense locker room showing players reacting with disbelief.
The caption roughly translates as,
Players who did not travel, shocked in the locker room. Distressing image.
The plane, which had departed from Santa Cruz in Bolivia, is believed to have gone down after a power failure.
It broke in two after crashing into a mountain just five minutes from its destination.
The team was due to play Atletico Nacional of Medellin in the Copa Sudamericana final.
Eerie Snaps taken by the players show them posing on the plane before it crashed.
In one Snapchat video, the players reportedly told their fans, "We're coming to Colombia."
Just a few hours ago, the soccer team posted a video on Twitter of the players celebrating a win in the locker room. It has the caption,
This is the last picture of our warriors.
Soccer clubs are paying tribute to the fallen players with heartfelt comments on Twitter.
Six reporters from FOX sports and three reporters from Brazil's main Globo TV channel are believed to have been some of the passengers on board the flight as well.
Federico Gutierrez, Medellin's mayor, branded it a "tragedy of huge proportions."
Authorities now have the grim task of working to remove dozens of bodies from the wreckage.
Heavy fog has made conditions hard for the rescue operation.
Citations: MailOnline, CNN, The Independent