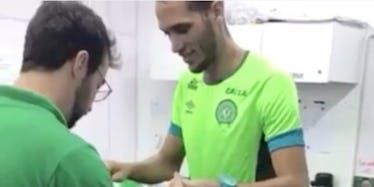 Viral Video Shows Colombia Plane Crash Survivor Taking First Steps On His Own
Instagram
On November 28, a Colombian plane carrying Brazilian soccer team Chapecoense fatally crashed en route to the Copa Sudamerica final in Medellin.
Seventy-one of 77 passengers on board were killed in the crash, including players, team staff, journalists and flight crew.
In the immediate aftermath of the fatal crash, fans of Chapecoense, Brazilians and soccer supporters around the world joined in mourning those lost in the tragedy.
While there is still a long road of grieving ahead for all those associated with the Chapecoense soccer team, this week, there's real cause for celebration and happiness.
At the moment, a viral video of Chapecoense player and plane crash survivor Hélio Neto taking his first steps without crutches is making the internet rounds.
The short video stands as a giant symbol of hope, rebirth and determination.
If you didn't even get the slightest bit emotional watching Neto take his first steps without crutches, well, then there's really no hope for you.
According to the Irish Examiner, the caption for the above tweet is translated as,
Hélio Neto takes his first steps after the Chapecoense accident.
The 31-year-old central defender is one of just three players to survive the horrific plane crash. Following the crash, he was reportedly hospitalized with a lung infection and fracture of his fifth lumbar vertebrae.
Speaking on the recovery process, Neto reportedly said,
I think I will be able to play again soon. With the help of God, I will be on the field soon with the Chapecoense shirt.
In the days following the tragic plane crash, Chapecoense midfielder Moises Santos reportedly told MailOnline,
The football club will rise again. But years and years will pass and there will never be a team like this Chapecoense one which conquested the world.
I hope everyone currently coping with this tragedy is buoyed by the video of Neto taking his first steps without crutches since the crash.
Forca Chapecoense.
Citations: Álvaro Morales (Twitter), Chapecoense plane crash survivor Helio Neto is walking again without the aid of crutches (Irish Examiner)