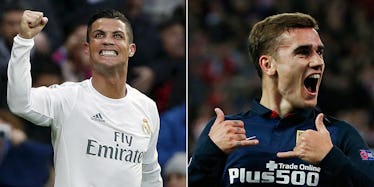 This Is The Team You Should Root For In The UEFA Champions League Final
REUTERS
When Atlético Madrid lines up for the UEFA Champions League final on Saturday, the red, white and blue of their club's crest won't be the only reason American sports fans have to support the team.
No, the big match against Real Madrid should pose an easy choice for neutral watchers on this side of the Atlantic because of what Atléti represents: the anti-European club.
For as exciting, dramatic and entertaining as European soccer can be, one of the biggest criticisms even the biggest fútbol fans must admit is that it is relatively predictable.
One look at the names on the trophies for the continent's biggest leagues corroborates that fact.
In Germany, Bayern Munich won their fourth Bundesliga title in a row. In France's Ligue 1, Paris Saint-Germain did the same.
In Italy, Juventus won their fifth Serie A title in as many years. In Portugal, Benfica won their third straight, and in Spain, Barcelona won their sixth La Liga title in eight years.
Only a literal, once-in-a-lifetime occurrence prevented England's usual suspects from winning the Premier League this season.
Still, the results for the continent's biggest competitions are often easy to guess, mostly because of the way the sport operates.
Soccer leagues in Europe are unlike any we'd ever see in the states, mostly because there is neither a salary cap nor any other artificial checks and balances to maintain parity within the sport.
Here, the worst team in any given league will have first dibs at the best player in a rookie draft, which is ultimately how a team in a smaller market like the Cleveland Cavaliers could wind up with a player like LeBron James.
There, the worst team in any given league will no longer be a part of said league because of relegation.
As the financial stakes have increased in soccer over the years, the cycle has only gotten worse, and the result is what we see today.
The rich have gotten richer and the same teams continue to dominate year after year.
Real quick, guess who won the title in each of the aforementioned "big" leagues 30 years ago, during the 1985-86 season.
In France, Italy and Germany, it was the same results as this year. In Portugal and Spain, Benfica and Barcelona were both runners-up.
Few things change in Europe. The same teams that are great today were great when our parents were young.
But then there's Atlético Madrid.
Atléti isn't exactly a small club and it's far from a huge underdog in Saturday's final. In fact, Diego Simeone's men have had the more convincing year in the Champions League, having knocked out Barcelona and Bayern Munich.
Still, Atlético Madrid has spent much of the modern era in Real Madrid's shadow. It was only as far back as 2013 that Atléti had been on a streak of 26 straight losses to their in-city rivals, before beating Real in the Copa Del Rey final that year.
That was the beginning of their rise as one of Europe's elite.
The next year, they won La Liga for the first time in 18 years in dramatic fashion by avoiding defeat away at Barcelona on the last day of the season.
Seven days later, they played in their first Champions League final in 40 years against Real Madrid. And after losing that game in one of the most heartbreaking ways possible, they're back again for a rematch, two years later, as the ultimate anomaly.
Usually, a team that's not "supposed" to stick around, after a surprise season of competing with the big dogs, doesn't. Liverpool, for example, have gone nowhere near challenging for the Premier League title after pulling off a near miracle win in 2014.
Atléti isn't Liverpool. This year, they've gotten back to the Champions League final in arguably more impressive fashion than they did two years ago.
Their opponent should only make the question of which club to support that much easier, too.
If Atléti is the anti-European club, Real Madrid represents everything that's typical about the sport overseas. Real is richer than everyone else and, therefore, can spend more money on players than anyone else.
They're the Yankees and the Lebron-era Miami Heat rolled into one. And few neutral fans like either of those teams.
So, unless you're an American fan who's actually a Real Madrid supporter, the decision shouldn't be too hard on Saturday. Atlético Madrid is probably the team you'll be rooting for.