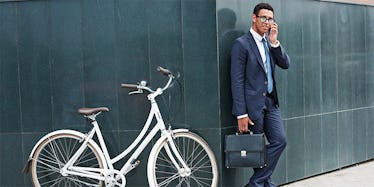 If You Want To Be A Sports Agent, Just Working Hard Isn't Good Enough
Getty Images
Front Office Sports is proud to have sat down with Jason Belzer, Founder and President of Global Athlete Management Enterprises (GAME, Inc.).
Jason represents coaches and produces college sporting events as it has always been an interest of his to do so.
On the side, Jason is also a contributor to Forbes and an adjunct professor at Rutgers University, where he lectures in sports management.
He was gracious enough to offer his time and insight into the cutthroat world of the sports agency business, how he got his start and working hard is only the beginning to being a successful sports agent.
On finding a career path:
When I was in college, I was interested in getting into [the] sports agency business, but I didn't necessarily have a strong affinity for representing players. I was really more interested in working in the world of college basketball and football, which is where my passion point was and still is. I tried to figure out how I could work in college sports while also being an agent, and came to the conclusion that it was by representing coaches. When I started my career, I had the opportunity to intern for an agency that represented a few coaches. It solidified my interest in wanting to pursue that avenue as I moved forward. When I graduated from Rutgers, I started my agency and went full force into representing coaches.
On representing coaches vs. representing players:
First and foremost, representing players is very much akin to babysitting. They're more interested in the 'what have you done for me lately?' mantra. I wanted to work with coaches because they're older, more mature, they appreciate having a business and legal advisor in their life. Also, the industry of representing players is far more cutthroat and very unethical in number of different ways. I didn't want to be involved in that. I wanted to do something, do it with integrity and have my clients appreciate me. That's why I chose to represent coaches over players.
On becoming an entrepreneur as an agent:
Following my internship and graduation, I started interviewing at another agency but they weren't offering me what I wanted. They wanted me to work for them but weren't giving me much in weight of salary. They also didn't want me to go to law school, and I knew if I ever wanted to rise to the top of the business I would need a legal degree. That is why I came to the conclusion that I could do it by myself and not have to be beholden to somebody with no guarantees of the future. When I started GAME, I was 21-years-old and honestly didn't know exactly what I was doing. I kind of figured it all along the way by reaching out to coaches, having conversations, educating myself, figuring out how to market and brand myself, how to get in front of clients, and how to prove that I had very unique value proposition that my competition didn't have. Slowly but surely I was able to build a practice from that.
On finding an internship in the sports agency business:
It was literally just reaching out. My friend at the time, and now business partner, Darren Heitner, started a website called Sports Agent Blog. On that website he listed all the agencies around the country. I literally sent out an email to all of them with my résumé. The first time around, I sent out about 100 emails. I got one reply. That was the agency that eventually would end up hiring me. Also, I differentiated myself because I had great writing skills. When people saw I was a smart, articulate individual, they realized I brought more to the table than the average college student. When I got there, I just hustled… proving that I could get in front of players and coaches and provide value. While most college students were being told what to do, I was a go-getter.
On the responsibilities that come with running a sports agency:
We do a lot of different things, but almost exclusively within the realm of college sports. We primarily work in the representation of coaches. We also run a pretty big college basketball tournament called the CIT, which we helped start about seven years ago. We also run something called Rivalry On Ice, which is a college hockey game between Harvard and Yale at Madison Square Garden. My day-to-day work is managing our current clients, creating new clients, working on our events, sourcing and negotiating sponsorship deals and broadcasting deals. I do a lot of consulting with various brands and universities from a marketing and sponsorship standpoint. So really just the general management of the company, but it's also business development and legal and everything in between.
On the benefits that good writing brings to a career:
As I mentioned, I was always a strong writer. I made sure to get every opportunity that I could to write for various outlets, including Sports Agent Blog, Fox Sports, and CollegeInsider. I was able to build a portfolio and about three years ago, Forbes starting recruiting people working in various industries (in my case sports) to write for them. I was able to parlay my experience and my writing abilities into a column. I cover all areas in sports business but my main work focuses on management and leadership in college athletics. I run Forbes' sports agent and agency rankings, which came out about two weeks ago, ranking globally the most powerful and valuable sports agencies. I also do salary cap analysis for them around the NFL and NBA Draft.
On what young professionals and students need to succeed in the sports industry:
Being a sports agent is very difficult. To be honest with you, if you're a smart person, you're probably better off doing something else. I mean that with the best intentions only because it's a very cutthroat business. You have a lot of very smart people that end up failing. The ones that don't fail still end up working really hard - harder than they would otherwise be doing. You see agents that are successful end up moving out of the business and becoming general managers or other front office positions. People who want to work in sports have to understand that working really, really, really hard is the basis for even being in sports, much less thriving. So if you're going to flourish you have to go above and beyond everyone else by building your brand and showing people that you bring something else to the table. The sports agency business is the highest echelon of that. As I tell my students at Rutgers, focus on building your brand and differentiating yourself. Focus on not only being the absolute best at whatever it is that you choose to do, but making sure that people know that and that you're building relationships with people. The sports business is small, everyone knows everyone, and if you're going to be successful it's not just about what you've done but it's more about who you know. You should do everything you can to meet as many people as you can. Then figure out how to deliver value to those people so you can strengthen your relationship.
This interview was conducted by Joseph Barca for FrontOfficeSports.org. You can follow the interviewer on Twitter here and the interview subject @JasonBelzer.