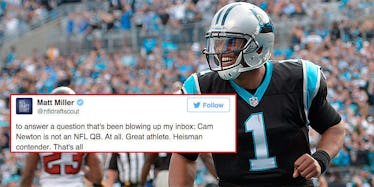 Twitter Won't Let Experts Forget They Thought Cam Newton Sucked
Getty Images
It doesn't matter how long ago you said it. If it's embarrassing enough, the Internet will find it. Cam Newton non-believers found that out last night.
As the Carolina Panthers were plowing their way to Super Bowl 50 during Sunday's NFC Championship, with Newton delivering another MVP-caliber performance along the way, football fans dug up old tweets from NFL experts who underrated the quarterback.
While Cam was in college, one notable expert essentially ruled out any chance of Newton being a successful pro quarterback.
to answer a question that's been blowing up my inbox: Cam Newton is not an NFL QB. At all. Great athlete. Heisman contender. That's all — Matt Miller (@nfldraftscout) October 25, 2010
There were those who predicted Newton wouldn't be better than guys who, today, are nowhere near starting-quarterback positions.
After breaking down Christian Ponder and Cam Newton on tape, I would take Ponder over Newton. That's just me. ' — Pete Prisco (@PriscoCBS) March 31, 2011
Long term give me Josh Freeman over Cam. Better leader, more consistent passer, more clutch, more poised under fire, more careful with ball. — Skip Bayless (@RealSkipBayless) November 16, 2012
But, none of those tweets stick out as much as Sports Illustrated's cover from April 2011 about the choice in the NFL Draft between Newton, Blaine Gabbert and now NFL-retiree Jake Locker being the "toughest call in football."
#OneMoreTime pic.twitter.com/lk9mHZDpSA — Josh Norris (@JoshNorris) January 25, 2016
Still, SI's miscalculation was not as egregious as the people who went out of their way to aggressively discredit Newton.
Remember Nolan Nawrocki's "analysis" of Cam before the 2011 NFL Draft? That was cute. pic.twitter.com/27AE5k7aZd — Jordan Ray (@JordanLRay) January 25, 2016
In 2011, BR columnist Jim Fulsom called Cam a "sure fire bust." Now says to fulfill promise, needs travel $ pic.twitter.com/plVzJZ7zuo — Darren Rovell (@darrenrovell) January 25, 2016
For those two critics, Twitter showed no mercy, with commenters essentially bringing out the pitchforks to attack them.
https://t.co/7wvZx4i6ol @BleacherReport I hope this man has been fired. — jm. (@Jcmurray3) January 25, 2016
"In five years, when Tebow is leading Denver into the playoffs and Cam is riding the bench, remember this article" https://t.co/MZhzPxU7U7 — Ziggy Fresh (@spenco89) January 25, 2016
Where are you now Jim Folsom? Props to @bryanl for uncovering this. https://t.co/esrUTsClAT via @bleacherreport — Daniel Arango (@ElPibe627) January 25, 2016
Well, we definitely know @folsom_jim is one of the worst sports analyst ever hired by @BleacherReport. https://t.co/0kLL6IpSXq — Samuel Childs (@snc_jr) January 25, 2016
"Cam Newton is a sure fire bust" pay up @folsom_jim pic.twitter.com/D2jxR8noXi — Rylo Ken (@Kennymack1971) December 21, 2015
To be fair, some of these proclamations don't look as bad with some perspective, and Bleacher Report's Matt Miller pointed this out in his own defense last night.
I'm sure none of you care...but Cam ended up in my Top 10 for 2011 draft and was my #1 pick in the mock. But go ahead with old tweets. — Matt Miller (@nfldraftscout) January 25, 2016
Point taken. But whatever, dude, your tweets are still funny.
What's more notable than any one piece of criticism is for a guy who is so talented, Cam Newton had a relatively large amount of people confident in betting against him.
But one thing is for sure: If Newton wins the Super Bowl with this previously unfavored Panthers team, people won't be hearing much criticism anymore.
Citations: As Cam Newton Dominates, Twitter Is Finding Old Tweets From NFL Analysts Saying He'd Fail in the NFL (Complex), Remember when some thought Cam Newton would be a draft bust? (Yahoo! Sports)