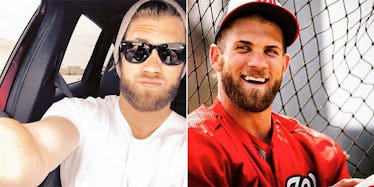 Why Bryce Harper Is The Douchebag Baseball Needs
Instagram
At 22, Bryce Harper is quickly becoming one of the most feared hitters in baseball.
He's also a douchebag.
In just three years in the majors, the Washington Nationals outfielder has already been crowned the 2012 National League Rookie of the year, made two All-Star games and appeared in the 2013 Home Run Derby Finals.
The dude can flat-out crush a baseball.
Yet, to go along with a silky swing and a growing list of accolades, Harper carries himself, both on and off the field, with a certain air of douchiness that hasn't been seen in the big leagues in years.
And, it's equal parts obnoxious and awesome.
We first got wind of Harper in 2009, after he appeared on the cover of Sports Illustrated at just 16 years old; hailed as "baseball's chosen one."
If you were being called the savior of a sport at 16, literally eclipsing coverage of both the Stanley Cup and NBA Finals in the process, don't you think you might have to be a bit of a douchebag to avoid crumbling under the pressure that accompanies such high praise?
Assuming you had Harper's talent, of course.
Harper surfaced once again in 2012, thanks to an interview conducted by Will Leitch for GQ.
In that interview -- in which he drops the F-bomb more than once -- Harper says such things as, "When I hit the ball, I do want to hurt it… I want to play the game hard. I want to ram it down your throat, put you into left field when I'm going into second base."
Harper also proclaimed that he and Albert Pujols knew and respected one another.
Forget that when the interview was published, Pujols was a nine-time All-Star, two-time World Series champion, three-time NL MVP, six-time Silver Slugger and a two-time NL home run champion.
I'm sure Pujols already saw a then 19-year-old Harper as an equal, if not a threat to his dominance of the sport.
But here's the thing: While his comments may make you shake your head at times, Harper has shown he can talk the talk and walk the walk.
It's no coincidence the Nationals' first playoff appearance since they were the Montreal Expos in 1981 coincided with Bryce Harper's 2012 debut. During his Rookie of the Year season, Harper hammered 22 home runs, drove in 59 runs and stole 18 bases.
And this is in an era where there is actual discussion about lowering the mound in an effort to lessen the dominance of pitchers.
Washington has now made the playoffs twice in the last three seasons; finishing first in their division both of those years.
Hell, I'm a Mets fan and I love this dude. Well, I love to hate this dude is probably more accurate.
And that's a similar sentiment shared by Atlanta Braves fans, especially after Harper appeared to deliberately brush away the Braves' logo behind home plate during a game last season.
Remember last night when I said to keep some class when talking about @Bharper3407? No. Fuck that douchebag. Disrespectful mother fucker. — Chelsea (@ChelseaEllennn) August 10, 2014
And why did he do it? Because that's some douchebag crap to pull. It gets the fans riled up, starts the conversation and only casts Harper as more of a villain.
Dude's probably going to pop a 450-foot blast in the next inning anyway.
But wouldn't Braves fans -- and any other team for that matter -- rather have a narrative to the game, as opposed to passing out in a puddle of beer by the sixth inning at Turner Field?
Baseball has other characters -- Yasiel Puig is doing his part -- but none are quite like Bryce Harper. That's in large part because, despite his limited experience in the majors, Harper is already that damn good.
And he had the balls to say he would be.
For the better part of the last decade, our nation's pastime has felt like it's past its prime. We haven't had a polarizing figure to follow since Barry Bonds broke Hank Aaron's all-time home run record in 2007.
And can you really argue that the "steroids era" wasn't the most exciting time in baseball in the last 50 years?
Baseball has a problem, folks.
Last season marked the first time in MLB history that pitchers struck out more than 20 percent of all batters faced.
The 2014 walk rate was 7.7 percent, the lowest since 1968; the strikeout to walk ratio was at its highest mark since 1884; and the percentage of hits per nine innings sank to a 40-year low.
Overall scoring and homerun rates have been steadily declining, too.
Bryce Harper can't singlehandedly reverse this trend, but he can go a long way into putting some spark back into a sport that's lost its groove.
Last month, during spring training, Harper was asked what he thought about 2013 AL Cy Young winner Max Scherzer joining the Nationals, to which he responded, "I just started laughing. I was like, where's my ring?"
That, ladies and gentlemen, is the douchebag Bryce Harper we all know and love.
Citations: IS BASEBALL READY FOR BRYCE? (GQ), With hitting down, should MLB lower the mound? (ESPN), Pitchers continue to raise the bar with their dominance (USA Today), Nationalsu2019 Bryce Harper: u2018Iu2019m going to bring back a title to D.C.u2019 (The Washington Post)