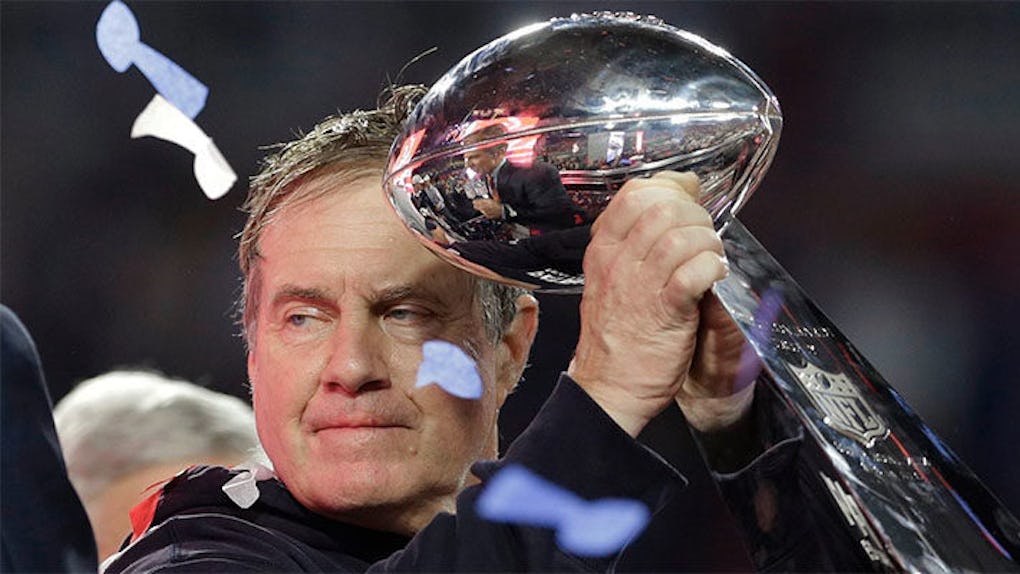 Facebook/New England Patriots
Reporter Says Bill Belichick Knew Tom Brady Was Lying About Deflategate
After raising hell over Deflategate, the New England Patriots now appear to be flaming out.
First, Bob Kraft kissed and made up with Roger Goodell earlier this week and decided the organization would accept its punishments for Deflategate.
Roger Goodell and Patriots owner Robert Kraft already have met, spoke and even hugged, per an industry source who witnessed it. — Adam Schefter (@AdamSchefter) May 19, 2015
Now, this. 
Boston Herald reporter Ron Borges basically said he was informed head coach Bill Belichick never believed Brady's story in the first place.
During a television appearance, Borges said,
Belichick never believed his story, from what I was told. Because they all know. Why do you think all those retired quarterbacks, the Troy Aikmans of the world -- Troy Aikman is about as nice a guy as I've ever met in football -- nobody's backed [Brady]. Nobody, not a single guy. Why do you think that is? Because they hate Brady? No. Because they're not stupid. They know nothing's done with those balls that the quarterback doesn't want done.
So there it is. After all the hoopla that lasted over a span of five months, the Patriots' defense against Deflategate is falling apart faster than its actual defense did in free agency this year.
According to the NFL, the entire Patriots organization is at fault. But according to Borges, Belichick thought Brady was guilty from the start. Not much of a shocker there.
Citations: Im told Belichick never believed Brady (CSNNE.com)