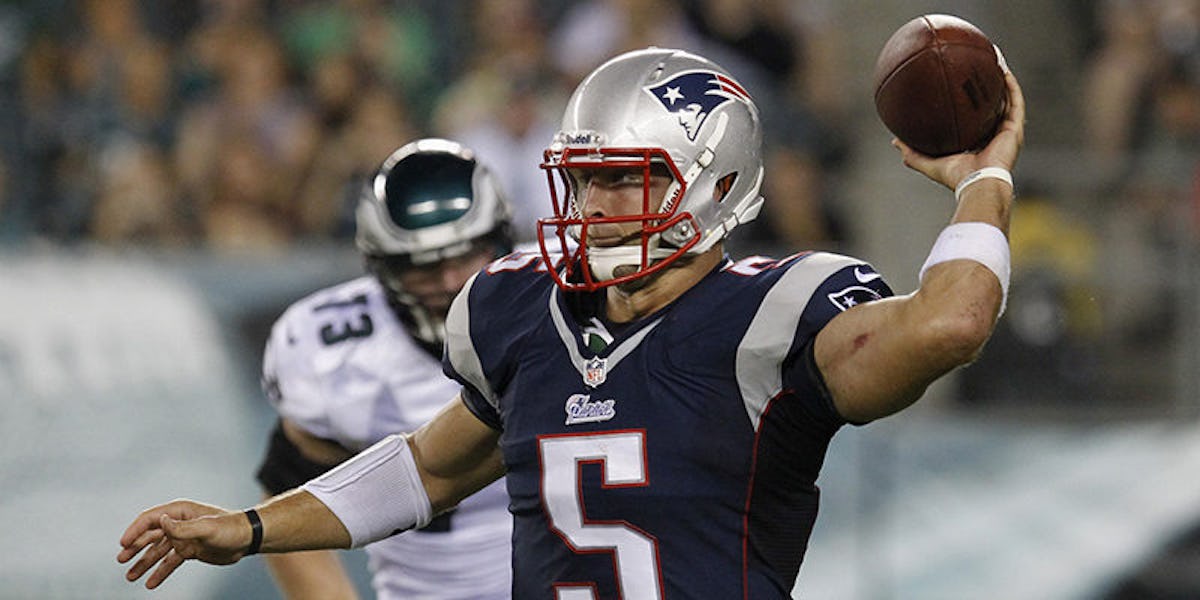 Bill Belichick Somehow Convinced Tim Tebow To Turn Down $1 Million Endorsement
REUTERS
Remember that time Tim Tebow played for the New England Patriots for, like, five seconds? Yeah, your boy really, really wanted to stay with the team.
How bad? Bad enough he consulted coach Bill Belichick on whether he should take a $1 million endorsement deal, received the advice (Belichick said no) and actually listened.
I know, right? Crazy!
And guess what? Even after Tebow made that gesture, Belichick ended up cutting Tebow from the team before the regular season even started. Talk about cold-blooded.
For clarity, let's take a step back.
The story dates back to the summer of 2013, when the Heisman-winning quarterback had signed a two-year deal with the Patriots.
Tebow claims he had an offer to make a one-day appearance endorsing a product. The reward for his appearance, in turn, would be $1 million.
It's seems straightforward enough, right? But the former Florida standout had high hopes with the Patriots, so he didn't want to do anything to jeopardize his standing with the team.
Tebow shares further the details in his new book, "Shaken."
So when the offer for the one-day commercial turned up, I was sure to discuss the opportunity with him. "I want to know what you think, Coach," I said. "I respect you and I want to fit in. I want to be one of the guys. Should I do it?" He thought for a moment and then shook his head. "Timmy, I would really appreciate it if you didn't." Highly respecting the man, I turned down the deal. I didn't even think twice about it.
Wow. Well, it's safe to say that this is one of the more ridiculous sports stories we've seen this year.
I don't care how selfish it sounds, unless I'm breaching my contract, I ain't about to turn down no damn million dollars to "fit in."
Please believe that. Still, to this day, Tebow says he has no regrets.
While sharing further details during an interview on "Fox & Friends," Tebow said,
I didn't want to be a distraction on the team. I wanted to be just another guy in the locker room, someone that could work, someone that could be a backup to Tom, and I didn't want to be a distraction, having stuff all over the headlines, so that's why I called coach Belichick to say, "Hey, what do you think about this? This is a great opportunity that I would say yes to, but I want to do what's right for the team first."
Ok, bro. Whatever you say.
All I know is, I can't fathom a situation that calls for considering a boss's advice on whether I should take money from someone else. Absolute madness.
Citations: For The Win