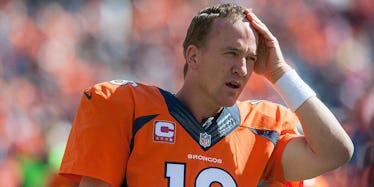 Peyton Manning Is The Best Of The Worst Quarterbacks This Season
Getty Images
Peyton Manning.
That one name evokes several responses.
Elite quarterback. Five-time NFL MVP. Super Bowl Champion and MVP. 14-time Pro Bowler. Sports Illustrated Sportsman of the Year. Marketing golden goose.
What about league leader in interceptions for the 2015 season?
Or the quarterback who just barely beat the Cleveland Browns, partly because of his defense and partly because of the Browns being the Browns?
That doesn't come to mind, but right now, that is the new Peyton Manning.
He is looking less like Peyton, and more like Eli from the last two years.
Peyton and the Denver Broncos may be 6-0 on the season, but if it were up to quarterback performance, they might not have any wins.
Their defense is arguably the best in the league, and has anchored the Broncos in their current undefeated campaign.
Their offense has been stagnant, at best.
Receivers have not been coming through in the clutch.
Just this past Sunday, Emmanuel Sanders botched a floaty throw that could have easily sealed the victory in the fourth quarter.
Peyton's performance in general was dismal, as he completed 26 of 48 passes with one touchdown and three interceptions on the afternoon.
For the 2015 season, his passer rating is currently 72.5, according to NFL.com.
That is a far cry from last season's 101.5 rating.
While there are still several games to go, Peyton still has started to show his decline at 39 years of age.
Peyton Manning was once a quarterback to be feared. Now, his throws are weaker and just don't look like his throws of past seasons.
Right now, he doesn't look like an MVP or a Super Bowl contender.
However, his team is still 6-0 on the season, when in reality they should be boasting a mediocre record.
Peyton goes out each week, but has been underperforming so far this season.
In his first six games, he has thrown seven touchdowns. That is fewer touchdowns than interceptions this season (10).
Out of those six games, two were without any Manning touchdown passes. He has passed for over 300 yards just once this season.
The first six games for the Broncos have also been against some lackluster opponents, like Minnesota and Kansas City.
His latest game against Cleveland just happened to be his worst, where he posted a 53.3 passer rating. It was his lowest in a single game since 2008.
The Broncos may only be six games into the season, but they are already showing their wear-and-tear on offense, starting with their normally reliable quarterback.
It only gets colder from here, and with an aging quarterback who is already struggling at that.
There is no doubt Peyton has both talent and experience on his side.
It just seems recently his efforts on the field have done nothing for the Broncos.
Peyton has been doing just enough to keep the Broncos undefeated thus far, but as more formidable opponents appear down the line, his performance will continue to suffer.
With lackluster throws and poor play-making decisions against mediocre teams, Peyton has shown his true colors as his age continues on.
However, if history tells us anything, it is that Peyton has the ability to play in big games and bounce back.
Right now, he and his offense are ranked extremely low.
But that is the beauty of the NFL season: There are still more games to come.
As big games roll around, there is no doubt Peyton will start to show signs of the Manning we all know and respect.
However, he won't be able to keep getting lucky with higher-level teams.
Here's the thing: no matter what, you want Peyton Manning on your team because he is Peyton Manning.
But how long until the Broncos realize that the name Peyton Manning isn't enough to keep their Super Bowl hopes alive?