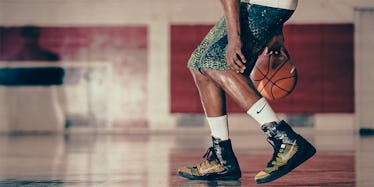 10 Workouts From NBA Stars That Will Make You The Best Player In The Gym
Let's be real, summer and watching sports just don't mix.
The NBA is months away, the NFL's preseason is only slightly better than no football and there are just too many events to go to, vacations to plan, friends to see and good weather to take advantage of for us to be on top of every baseball stat.
If we're going to indulge in any activity that involves athleticism, we're going to be at the center. That means more gym time, more running and more summer basketball.
Whether it's because school is out or work schedules become more relaxed, there's always more time to get on the court with your friends.
And no matter how old you are, you still want to be the best.
At the pick-up level, the difference between standing out and simply fitting in is a player just knowing more fundamentals than everyone else.
If you can perfect these skills using these pro workouts, you can definitely be that player.
Rajon Rondo -- Passing
Here, Rondo uses a simple set of folding chairs to practice his bounce pass technique and threading the needle.
The repetition is all about one thing: learning how to get the ball to your opponent.
If you want a workout that helps build the fundamentals for passing and hand coordination, Nike's one-handed passing drill is worth a look.
Kyrie Irving -- Finishing
Kyrie is not only a good finisher, he's also a creative one. He'll throw up different types of shots at the rim, depending on how the defense plays him.
A big factor that goes into this is him knowing which angles to use off the backboard.
His suggestion for gaining that understanding is actually similar to Kobe's in this video: stand under the basket and spin the ball off the backboard consistently.
Team USA -- Pick and Roll
The pick and roll is one of the most common and easiest offensive plays that can be used during a basketball game of any level.
But the fundamentals of how to execute it should not be taken for granted.
Here, Team USA emphasizes setting wide screens and timing of the drive.
Andre Iguodala -- Defensive Sliding
The more you rely on your hands while playing defense, the more you risk fouling your opponent.
The more you rely on the lateral movement this drill seeks to improve, though, the more you will be able to get in front of your opponent and make him or her change directions or give up the ball.
John Wall -- Ball Handling
John Wall's dribbling drill is a widely-known fundamental workout for getting your handles up. You dribble two balls at the same time while alternating rates and speeds.
Blake Griffin -- Boxing Out
Getting in front of an offensive player while you are on defense is sometimes more important than jumping for the ball itself when going for a rebound.
Practice boxing out the way Blake does here. Commit to doing it during a game, and you're on your way to being a great rebounder.
Kenny "The Jet" Smith -- Help Defense
"No one person can defend a great player," The Jet says, so it's important you know how to perfectly position yourself to play help defense.
The key emphasis in this drill is knowing to move when the ball is in the air and getting in the space between the ball and your man.
Michael Jordan -- Triple Threat Fundamentals
There's no better person to learn from than the G.O.A.T., and Michael Jordan is willing to help. Practicing this routine is all about one thing: setting yourself up for success on the dribble by perfecting the triple threat position.
Ray Allen -- Jump Shooting
The master of the jump shot is here to teach you how to properly elevate over your man for the perfect jump shot. Allen advises what your form should look like and what drills you should practice to get it right.
Dee Brown -- Dunking
The trick here is there isn't an actual workout. Dee Brown, one of the great dunkers in NBA history, says working out your legs in the gym isn't really the secret to getting more vertical and being able to dunk.
Instead, he advises you simply practice jump, with the ball particularly, and do an exercise like this. Simple, right?