'Til my dying breath, I will use sports terms to define to my relationships. It's just what we guys do.
Regardless of the situation, when we're dating a girl, there's always some type of basketball analogy that can apply.
Everyone loves to "rebound" after getting rejected and all guys love "playing time" when they decide to go after a girl.
But there are even more common terms we use all the time to describe our dating lives. And, judging by the number of times I've had to explain these terms to my female friends, women don't always know what they mean.
So, here's a tutorial of popular basketball-isms your favorite guys probably use to describe you.
Prospects
This word is usually reserved to describe players who have the potential to compete in the NBA. It also refers to women who have the potential to be "the one."
Cuffing pre-season and I got no prospects — zack williams (@goddamnitzack) July 30, 2015
The Alley
The alley-oop is, of course, the most exciting play in basketball. Watch enough of the sport and you'll know the "alley" (the pass) is just as important as the actual "oop" (the basket).
The alley has to be perfectly timed, crafted and well thought out. And that's exactly what you expect from a friend when you want him or her to set you up with a girl.
Are you friends with Melissa? Yooo, throw me the alley.
It's basically the set-up.
The Pick
You know that friend who always makes it awkward for any guy to approach you when you're out? Yeah, no one likes her. She's always in the way.
The answer to this problem is simple.
Guys need a wingman (or woman) to set a pick. The pick is designed for said wingman to take the unwanted "defender" out of the picture and give us a clear path to the goal, as illustrated above.
Roster
Your roster is the inventory of prospects who are realistic possibilities to hook up with. You can't have a roster when you're in a relationship (or, at least, we wouldn't advise it). But when you're single and occasionally looking to mingle, there's always a certain group of people you think of turning to first.
If you're dating a guy right now, you probably rose as the cream of the crop from the roster. So, congratulations for outshining the other members of the starting five.
Scouting
There are two things the first day of every college semester should be reserved for: getting the syllabus and scouting.
Scouting is any act that requires surveying the field for prospects and talents. This includes checking out whose number you want to get on the first day of class or getting a quick scan of everyone's face upon first entering a bar.
If a guy made his way toward you in a club, he likely scouted the premises first.
Shooting
At some point, everyone has to take the shot. The Internet collectively recognized this recently, and last year quickly became #ShootYourShot2015.
When a girl is way out of your league but you still want to #ShootYourShot2015 pic.twitter.com/cyiHAaxkVI — Nate Wheeler (@TheRealWinslow) December 31, 2015
It's a new year, but shooting your shot, no matter what the odds, is definitely still a thing.
MVP
This one is pretty straightforward: She's the one who most distinguishes herself among all other roster members.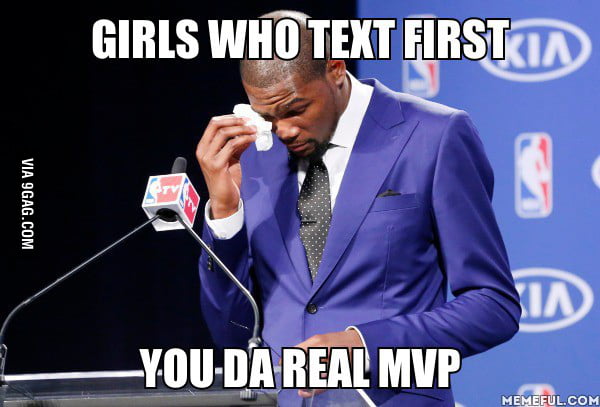 Scouting Report
When inquiring about a certain prospect, the first order of business for a guy is to request the scouting report, which is really no different than getting your Carfax before buying a new ride.
When we rely on our friends to give us the scouting report, what we're really doing is asking for all the key stats -- personality traits, looks, relationship status/history, career choice, etc. -- from someone who is more familiar with the prospect.
The scouting report is crucial for knowing what you're getting into before shooting your shot.
Bench
The bench is the space where prospects are relegated to after a series of disappointing performances. Being sent to the bench will likely correlate with a decrease in text conversations.
Of course, the opposite of being on the bench is getting playing time, or "play."
The Press Conference
I am convinced everyone has these, and it can fall under many names. Whether it's called "the recap" or the "post-game report," friends should know it's go-time when you request one of these.
The press conference is essentially a group of guys engaging in a SportsCenter-like rehash (whether in-person, on the phone or in the group chat of choice) of a certain night's events.
These conversations can include, but are not limited to, highlights, analyses, predictions of the next "game" and even direct quotes ("and then I said... and then she said...").
If you go out on a date with a guy, there's a good chance he's obligated to report specific details to "the media," i.e. his friends.