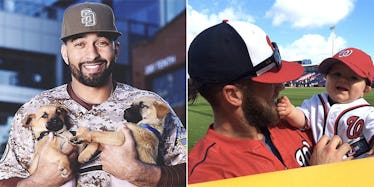 5 Baseball Stars Who Prove MLB Players Are The Classiest Athletes
Instagram
It seems like every week, a new professional athlete is in the limelight.
In an era of sexual assault, drugs and misconduct in the sporting world, it's important to acknowledge those players who stand as positive role models for their fans.
Extremely athletic and kind-hearted, some baseball players are a prime example of how every athlete should be. Although not every player in the league is perfect, many ball players are role models both for their athleticism and personalities outside the game.
Baseball players are hard-working, dedicated and known as America's sweethearts, which makes them the classiest type of athlete.
To honor these well-rounded men, I present some of the classiest and most lovable players in the game:
Albert Pujols, Los Angeles Angels
Pujols is a classic fan favorite — and for good reason.
This Dominican-American baseball stud started his professional career with the St. Louis Cardinals and created a standout reputation for not only being an MVP on the field, but also off the field, showing his love for charity.
In 2005, Albert and Deidre Pujols launched the Pujols Family Foundation, which is a charity that promotes awareness for Down Syndrome.
Not only does he have his own foundation, he also can be spotted at a wide variety of charitable events. Pujols dedicates his career to his "commitment to faith, family and other."
Pujols is the perfect example of how baseball players can be all-stars for their athletic ability and their dedication to charity.
Bryce Harper, Washington Nationals
Although he's young, he's willing to prove his dedication to the sport. This 22-year-old got his professional debut in April 2012; that same year, he won NL Rookie of the Year.
The reason Harper is so lovable is because he is always trying to improve his game and is willing to work hard every day. He climbed his way to the major leagues after some time in the minors and now is considered one of the best "five-tool players" in the game.
Harper proves that hard work and dedication always pay off.
Matt Kemp, San Diego Padres
Not only is he talented, but he's also one of the most stylish guys in the league.
Although baseball has never been known for fashion, Kemp was reasonably named "Baseball's Best Dressed" and is credited with bringing fashion back to the league.
Kemp isn't afraid to get dirty during the game, but he always makes sure to look on point outside of the diamond.
Mark Buehrle, Toronto Blue Jays
Mark Beuhrle is possibly one of the happiest players in the league. Whenever the camera is on him, he always is smiling; he's known as the guy who is always goofing off, making his team and fans laugh.
Early on in his career, many scouts overlooked Buehrle and now that he's proved them all wrong, he's enjoying every minute of his professional play.
Although he's no joke on the mound with a perfect game on his résumé, players like Buehrle remind everyone of the joy baseball brings.
Paul Konerko, Chicago White Sox
Although recently retired, Konerko still is a symbol of both talent and good attitude in the MLB.
Paul Konerko was a silent assassin during the game. He never gloated or talked smack, and he knew the value of hard work. He always made sure to be a good role model both with his work ethic and positive attitude.
His grand slam in the seventh inning of game two of the 2005 World Series is one of the most clutch hits in team history.
Konerko is the definition of classy player; he never acted as if he was too good for anything and could pair his lovable personality with his outstanding talent.