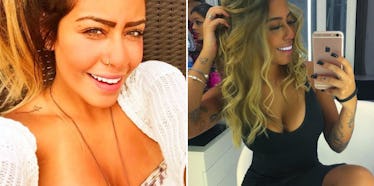 Barcelona's Neymar Has A Super Sexy Sister And Her Instagram Is Too Lit
Instagram
You know how everyone was saying 2016 was the worst year ever?
Well, for several reasons, it appears 2017 is already looking like it's going to be a hell of a lot better.
Earlier this week, we learned reigning UFC Lightweight Champion Conor McGregor has a ridiculously hot sister, Aoife.
Related: Conor McGregor's Sexy Older Sister Is The Real Knockout In The Family
Now, it appears McGregor isn't the only global sports superstar with a seriously sexy sibling.
It turns out Barcelona and Brazil superstar Neymar has a super sexy sister and her Instagram account is chock-full of hot bikini pictures and other awesome photos.
Sorry, dude.
Rafaella, who has 2.5 million Instagram followers, doesn't play soccer, but I guarantee you're going to want to score with her.
Related: Clemson's National Championship Hero Has The Hottest GF In College Football
I could sit here and ramble on about Neymar's sister's hotness all day long, but why don't I just show you instead?
Without further ado, check out Rafaella, Neymar's super sexy sister.
Barcelona and Brazil forward Neymar is one of the greatest soccer players on the planet, but he may not be the best talent in his family.
See, apparently, Neymar has a ridiculously sexy sister, Rafaella.
Neymar's sister, Rafaella, has 2.5 million followers on Instagram...
...and one look at her photos explains why.
From seriously smoking bikini pics...
To shots of her wearing articles of clothing that barely pass for clothing...
...this Brazilian beauty is what you might call the complete package.
Neymar, you old sea dog! You've been hiding Rafaella from us, haven't you?
I mean, if I had a smokeshow sister like Neymar, I'd probably keep it on the DL, too.
Like, has anyone ever looked as hot on Instagram as Rafaella looks in these photos?
With the discovery of Neymar's sister's Instagram account, it feels like we just found a rare metal that's been hiding under the Earth's surface.
Neymar, you may be one of the most talented athletes on the planet, but you have nothing on your sister, Rafaella.
Citations: Hold Up, Did You Guys Know Neymar Has A Sexy Sister Who Looks HOT AF In A Bikini? Because He Does (Bro Bible), rafaella (Instagram)