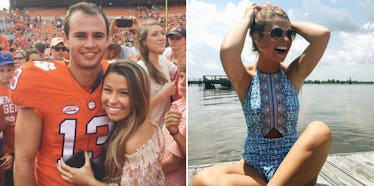 Clemson's National Championship Hero Has The Hottest GF In College Football
Instagram
Clemson Tigers wide receiver Hunter Renfrow is quite possibly the happiest dude on the face of the planet.
Monday night, the Tigers of Clemson rallied from 14 points down to come back and defeat the reigning National Champion Alabama Crimson Tide on a last-second touchdown.
That touchdown was thrown by quarterback Deshaun Watson and hauled in by wide receiver Hunter Renfrow with just one second remaining on the clock.
Clemson won the 2017 National Championship 35-31, and much of South Carolina partied into the wee hours of Tuesday morning.
Now, you might think catching a game-winning touchdown in the final seconds of the college football National Championship game would be the pinnacle of Renfrow's young career.
But you'd be wrong.
See, not only is Hunter Renfrow winning on the football field, he's also winning off it. Why, you ask?
Well, the 21-year-old hero happens to be dating arguably the hottest girlfriend in all of college football!
Related: Indians DH Mike Napoli Has The Hottest Girlfriend In World Series History
Without further ado, meet Camilla Martin, Hunter Renfrow's smoking hot girlfriend... and the real catch of the year!
Monday night, Hunter Renfrow became a hero after catching the game-winning touchdown in the National Championship game.
However, his smoking hot girlfriend Camilla Martin is the real catch of the year.
It appears Martin also attends Clemson University in South Carolina, and she couldn't be prouder of her boyfriend/hero.
Camilla Martin is smart, too, because one of her recent IG captions basically told all the thirsty chicks not to even think about hitting on Hunter Renfrow.
Hunter Renfrow's girlfriend is a certified stunner, sure, but one look at her Instagram tells you she's also very classy.
After catching that touchdown to dethrone the reigning National Champions, Hunter Renfrow could probably have any woman he desires.
But the 21-year-old wide receiver already has his ride-or-die chick by his side.
Hunter, you may have made the play of the game against Alabama Monday night, but it's your girlfriend who's the real MVP.
Congratulations to Camilla Martin and Hunter Renfrow, winners on and off the football field.
Citations: Meet Camilla Martin – Girlfriend Of Clemson Gym Rat Hunter Renfrow (Busted Coverage), camillammartin (Instagram)