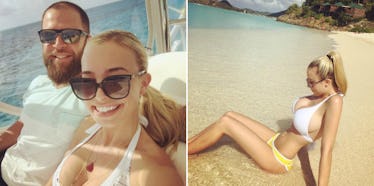 Indians DH Mike Napoli Has The Hottest Girlfriend In World Series History
Instagram
Cleveland Indians DH Mike Napoli is quite possibly the luckiest dude on the face of the planet.
Tuesday night, the Indians smoked the Chicago Cubs in Game 1 of the World Series, defeating the National League champions 6-0.
Despite batting in the cleanup spot on Tuesday, Mike Napoli went 0 for 3. It doesn't matter, though, because if history is any indication, the Cleveland Indians already have this one in the bag.
Related: Kevin Love's GF Is Sports Illustrated Model Kate Bock, The Hottest Woman Alive
In his 11 seasons in the Major Leagues, Mike Napoli has made eight playoff appearances. That's one hell of a success rate. And if his team can scrap together three more wins, Nap will capture the second World Series ring of his career.
You've heard the old adage "when it rains, it pours,"right? Well, in Mike Napoli's case, that couldn't ring truer.
See, not only is Napoli a winner on the field, he's also a champion away from the baseball diamond.
Why, you ask?
Meet Sophia Phalen, Mike Napoli's girlfriend.
Apparently, Sophia Phalen is a nursing student, which is good news because you might need resuscitation after checking out some photos from her Instagram page.
Without further ado, I give you Sophia Phalen, the hottest girlfriend in World Series history.
At the moment, Mike Napoli is making his eighth postseason appearance, and he can clearly credit his success to his smokeshow girlfriend, Sophia Phalen.
Napoli has been a consistent player throughout his career, but the soon-to-be 35-year-old is having a renaissance this year, and it's not hard to see why.
Phalen, who's reportedly a nursing student, is a perfect 10.
This Nashville, Tennessee bombshell is what one might call "the complete package," and she's clearly to credit for Nap's best year ever.
I mean, Mike Napoli had 34 homers and 101 RBI this season, by far the best totals of his lengthy career.
I know Nap won a World Series ring before he started dating Sophia Phalen, but... uh... that was probably just luck because fate knew she'd eventually be in his life.
Can we talk about the real issue? Why is Sophia Phalen just Napoli's girlfriend?
Bruh, when are you going to put a ring on it and lock the hottest woman in the world down for life?
You're not getting any younger, man, who knows how many postseason runs you have left in the tank?
Sophia, you're the hottest woman in World Series history, and you're definitely October's real MVP.
Citations: Meet Sophia Phalen — Girlfriend of Mike Napoli (Busted Coverage), sophiaandstella (Instagram)