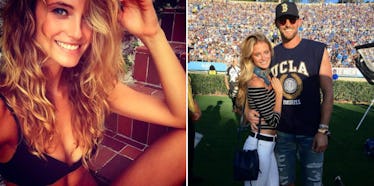 Kevin Love's GF Is Sports Illustrated Model Kate Bock, The Hottest Woman Alive
Instagram
LeBron James and the Cleveland Cavaliers are off to a 6-1 start this NBA season, and power forward Kevin Love's hot Sports Illustrated Swimsuit model girlfriend, Kate Bock, is obviously the reason.
Yeah, I know the Cavs are the defending NBA champions and all, and LeBron James is probably the best basketball player on the planet, but after taking one look at bikini model Kate Bock, you'll see she's the muse, the inspiration for the Cavaliers' and Kevin Love's success.
RELATED: Indians DH Mike Napoli Has The Hottest Girlfriend In World Series History
Though the 2016-17 NBA season is young, 28-year-old Kevin Love is averaging 22 points per game, his highest PPG total since the 2013-14 season, which was the last time he was an NBA All-Star.
Coincidence? I think not.
Love, clearly feeling an unparalleled level of confidence by dating Kate Bock, is also attempting, and making, the most field goals since that last All-Star season.
Need more proof the very sexy Bock is to thank for the Cavs' early dominance this season? Well, Kevin Love is also averaging career highs in blocks per game, steals per game, free throws per game and free throw percentage.
So, before this year's Cleveland Cavaliers surpass last year's Golden State Warriors, take a closer look at Kevin Love's girlfriend, sexy Sports Illustrated Swimsuit model Kate Bock.
At 6-1, the Cleveland Cavaliers are off to one of the hottest starts in NBA history, and they clearly have Kevin Love's girlfriend to thank.
Sure, LeBron James and his teammates are the ones on court every night, but Sports Illustrated Swimsuit model Kate Bock is the real inspiration for the team's success.
Though the season is young, Love is having a career year in many categories, and it's not hard to see why.
I mean, if you were dating Kate Bock, aka the hottest woman alive, you might be able to average 22 points per game, too.
Bock, 27, was born in Vancouver, Canada, and she was first featured in the Sports Illustrated Swimsuit Issue in 2013.
The gorgeous blonde bombshell was voted Rookie of the Year for her MVP performance in the issue.
Kate Bock has featured in the Sports Illustrated Swimsuit Issue every year since her ROTY debut.
Apparently, she was discovered at a swimming pool at the age of 12, and Bock hasn't looked back since.
Having lived in Paris, Bock speaks fluent French, which is another massive turn on in addition to her sexy looks.
In addition to being a SI model, Kate Bock has been featured in Maxim and ELLE and modeled for Victoria's Secret.
So, congratulations, Kevin Love! With Kate Bock and the Cleveland Cavaliers, you're winning on and off the court.
Citations: katebock (Instagram)