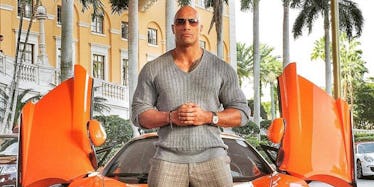 20 Pro Athletes Who Never Stopped Hustling, Even After Retirement
Facebook
The life of a professional athlete comes with many blessings, distractions and so much damn money that most don't even know what to do with it.
To put things in perspective, the average star player in any major American sport will make more in one season than most of us will in our entire lives.
Shout out to having a God-given talent that pays the bills, but what happens when that talent runs out?
Now matter how gifted a pro athlete is, father time always catches up, and for those not prepared to make the transition into the next phase of their lives, they end up two things: broke and miserable.
That's exactly what the new HBO series "Ballers," starring Dwayne Johnson, is all about and they aren't hitting far from the truth.
According to Wyatt Investment Research, 78 percent of NFL players lose all their money just five years after retirement.
60 percent of NBA players will file for bankruptcy in that same time, while MLB players are four times as likely to go broke than the average American when their playing days are over.
There isn't just one; there are many reasons for this.
For one, most of these guys aren't even handling their own money. Or even know what they're spending it on, for that matter.
Having a financial adviser is always the wise thing to do when acquiring new wealth, but what if that adviser is a friend or family member who doesn't actually look out for your best interest?
Most of those individuals were never equipped to manage so much money in such little time.
Others, however, have been preparing for this moment since they were rookies.
Whether they ventured into the world of broadcasting, politics, entrepreneurship or selling electric grills, pro athletes have been few and far between in successfully jumping into civilian life.
But for those who were able to reinvent themselves and become an even more successful after it all, we salute you. Rookies, pay attention.
Shaquille O'Neal
Retired: 2011
Net Worth: $250 Million
Shaq majored in business at LSU and was an active bond investor during the early 90s for companies such as General Electric, Apple and Pepsi. Not to mention, he was also starring in a few movies at the time.
He also invests in real estate in the Orlando area to help families facing foreclosure and is an adviser for startups like Tout Industries and Loyale3 Holdings, Inc., just to name a few.
According to Financial Juneteenth, Shaq is a joint owner of 155 Five Guys Burgers restaurants and also owns multiple Auntie Anne's Pretzels joints.
Vinnie Johnson
Retired: 1992
Net Worth: $1.5 Million
As the sixth man for the legendary Bad Boy Pistons in the 80s, Vinnie "The Microwave" Johnson is now the star player as chairman and CEO of Piston Automotive.
With a staff of over 200 people and sales of over $85 million, Johnson is able to contribute even more to the city of Detroit beyond his playing days.
David Bing
Retired: 1978
Net Worth: $5 Million
David Bing played 12 years for the Detroit Pistons, Washington Wizards and Boston Celtics where he won Rookie of the Year honors in 1966.
But during his offseasons, he worked at a bank as a teller and when he retired, started working for a steel company.
In 1980, he decided to open up Bing Steel and lost all of his money in six months. However, after getting General Motors on board as his first client, the company made $4.2 million in its second year.
By 1985, Bing had revenue up to $40 million, and in 2009, sold the company off. That was the same year he was elected mayor of Detroit where he served in office until 2013.
Junior Bridgeman
Retired: 1987
Net Worth: $400 Million
Junior Bridgeman reached a peak salary of $350,000 during his 12 years in the NBA, but struck gold when he decided to buy a franchise of his favorite fast-food chain, Wendy's.
By the time he retired, Bridgeman owned three restaurants. Soon after, he started Bridgeman Foods, Inc., which controls 160 Wendy's franchises and 120 Chili's franchises in the US.
His company now makes $350 million annually, and with a net worth around $400 million, he would be one of the highest paid players even if he were still in the NBA today.
Tony Hawk
Retired: 1999
Net Worth: $140 Million
Tony Hawk was always a savvy businessman and even earned his first sponsorship when he was 12.
After landing the first 900 in 1999 (the same year he retired), Mr. Hawk became an icon and capitalized with his skate brand, Birdhouse, and Tony Hawk's Pro Skater video game franchise, which still continues to earn him money today.
John Elway
Retired: 1999
Net Worth: $44 Million
After winning two Super Bowls with the Broncos, John Elway has been a busy man in the auto industry, selling his five car dealerships for $82.5 million back in 1997.
Today, he has four more car dealerships under his belt, two steakhouse restaurants and keeps his ties close to football as GM and executive vice president for the Denver Broncos.
Hakeem Olajuwon
Retired: 2002
Net Worth: $200 Million
The Dream is one of the most iconic centers in NBA history and an even greater legend as a real estate tycoon.
His earnings are estimated to be well over $100 million and he buys only with cash as it is against his Islamic beliefs to pay interest.
He also opened his Big Man basketball training camp where he trains current NBA stars like Kobe Bryant, Dwight Howard and Carmelo Anthony.
Cal Ripken, Jr.
Retired: 2001
Net Worth: $75 Million
Cal Ripken Jr. is a proven champion, not only on the baseball field but as a businessman where he stays busy as chairman and CEO of Ripken Baseball, Inc.
With his brand, he now owns two minor league baseball teams, three book deals and even his very own baseball complex in his hometown of Aberdeen, Maryland.
Roger Staubach
Retired: 1979
Net Worth: $600 Million
Roger Staubach was one of the grittiest quarterbacks in NFL history, but has proved to be an even savvier businessman as a CEO.
He's been the head of The Staubach Company for over 30 years now where he invests in real estate that has now funded buildings all over the world.
With over 70 offices, the company now focuses on commercial developments with companies like AT&T and McDonald's Corporation.
In 2008, the Staubach Company sold for $613 million and Roger made well over $100 million from the sale.
Chris Webber
Retired: 2008
Net Worth: $80 Million
Chris Webber has been out of the league for seven years now, but already has a portfolio that would suggest otherwise.
Aside from his role as a broadcaster, he has his own investment company that represents both basketball and football players.
He dabbles in real estate, film and also produces rap on the side. Artists he's worked with include Queens legend Nas.
Jack Nicklaus
Retired: 2005
Net Worth: $280 Million
Jack Nicklaus was one of the first golfers to capitalize on the game's popularity during the 60s and translate it into endorsements.
While he retired in 2005, Nicklaus spent more time in the boardroom than the course, helping to start the agency International Management Group, otherwise known as IMG.
Starting off in golf management, the company expanded into other sports and soon everything else in media, from models to actors, artists and media companies.
In 2013, IMG was acquired by William Morris for $2.3 billion.
Oscar De La Hoya
Retired: 2009
Net Worth: $200 Million
Before Mayweather, Oscar De La Hoya was the golden boy raking in all the boxing dough.
Funny enough, his Golden Boy Promotions is what's still keeping him at the top, representing nearly 50 fighters and grossing over $100 million annually.
With deals with HBO, ESPN and Showtime, his business spans all across the world and especially within the Latino markets.
Arnold Palmer
Retired: 2006
Net Worth: $675 Million
Arnold Palmer still has a fortune and he did that by keeping his business within golf.
He owns the Bay Hill Club, which is a venue of the PGA tour and was one of the founders of The Golf Channel.
He helped bring the first golf course to China, created his own golf course design company and of has his own line of delicious Arizona Iced Tea.
Nolan Ryan
Retired: 1993
Net Worth: $60 Million
Nolan Ryan played in the Major Leagues for nearly 30 years and stays close to the game by owning two minor league clubs.
He also co-wrote six books, was the CEO of Express Bank of Alvin and now runs his own organic beef company.
Wayne Gretzky
Retired: 1999
Net Worth: $200 Million
The GOAT Gretzky has kept busy since retiring nearly two decades ago by owning minor league hockey teams and recently becoming a partner with the Phoenix Coyotes.
He once even purchased a Canadian Football League team, and now owns restaurants throughout Canada and, yes, his merch still sells.
Jim Brown
Retired: 1965
Net Worth: $50 Million
Jim Brown may be the greatest power back in NFL history, but his life after football is even more interesting.
He became the first black action star in Hollywood, starring in several movies including "Buffalo Soldier" and "100 Rifles" with Burt Reynolds.
He's written several books, served as a commentator for both the NFL and UFC and was even an adviser for the Cleveland Browns.
George Foreman
Retired: 1977
Net Worth: $250 Million
George Foreman was one of the greatest to ever step into a ring, but no one could've predicted his entrepreneurial path when his career was over.
With over 100 million of his electric grills sold, Foreman was the perfect spokesperson when Salton approced him in 1999 and paid him $137 million for the rights to use his name and sell the product.
It's estimated he's made over $200 million from this endorsement alone.
Dwayne Johnson
Retired: 2004
Net Worth: $125 Million
When The Rock retired from wrestling in '04, not a lot of people were happy.
Fast forward to over a decade later, and not only was it a wise decision, but it was the perfect step in his evolution as a businessman.
As the top action movie star in Hollywood today, Johnson is now dropping box office bangers left and right, and along with his company, 7 Bucks Productions, is producing his own work too.
His new show "Ballers" is one of his first projects under his own company, which he runs with his ex-wife Dany, and it's a sign of even more things to come.
He still wrestles from time to time, and you never know when he's going to step into the ring next!
Magic Johnson
Retired: 1991
Net Worth: $500 Million
Magic Johnson is the perfect example of what to do with your money when you retire as one of the greatest.
His Magic Enterprises is worth roughly $700 million, and he started a chain of his own movie theaters nationwide, as well as his own film studio.
He even has his own pre-paid credit card called the Magic Card for low-income people and has given over $1 million to AIDS prevention.
Magic also invests in real estate, for both big businesses and urban areas, and is a public figure in Los Angeles as part owner of the Dodgers.
Michael Jordan
Retired: 2003
Net Worth: $1 Billion
Were you expecting anyone else to be at the top of this list?
The man is worth $1 billion, and that is in great thanks to his sneaker company named after himself.
The Jordan brand will be strong until the end of time, and it's crazy to think the kids of today know that name just by the shoes and not the player.
Aside from that, MJ's yearly income from endorsements is estimated at $40 million, and he once signed a contract for $30 million for just one season with the Bulls.
He was the first NBA player to become a billionaire, but will certainly not be the last. LeBron is coming.