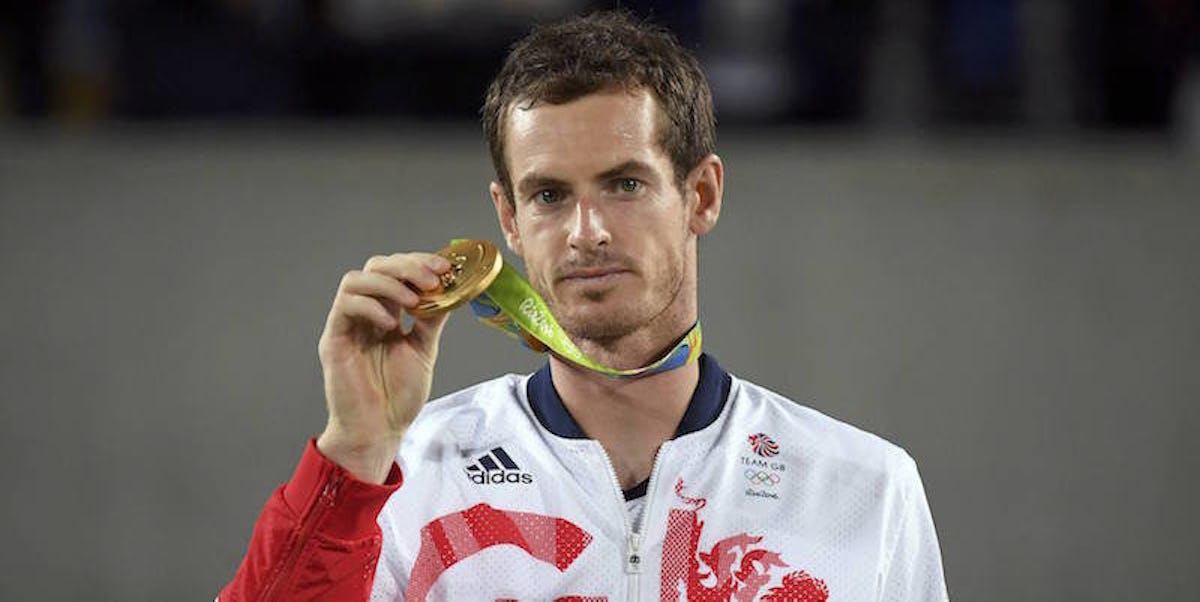 Andy Murray Has Savage Response To Reporter Who Forgot Women Play Tennis
REUTERS
Andy Murray won his second Olympic gold medal for the UK on Sunday night in Rio.
After a long, tough fight, he beat Juan Martín del Potro from Argentina to win the gold in men's individual tennis. The match ended with everybody crying — literally. Everybody cried. The Olympics are amazing.
This was a great accomplishment that demonstrated the height of athletic excellence and endurance and perseverance, just like the Olympics are supposed to.
But then, as tends to happen, some man had to go and be a man all over everything and make us all groan and roll our eyes.
BBC reporter John Inverdale interviewed Murray after the match. Inverdale said,
You're the first person ever to win two Olympic tennis gold medals. That's an extraordinary feat, isn't it?
To which Murray had to correct him for a horrific oversight. That oversight being, you know, women. Murray said,
Well, to defend the singles title. I think Venus and Serena won about four each.
Murray was referring to the fact that he's the only tennis player to have two individual gold medals, but Venus and Serena Williams have a handful of their own gold medals from individual and doubles tennis at the Olympics.
Sexism is alive and well in the tennis world (along with racism: hey, Indian Wells). Earlier this year, there was controversy over a lack of gender equality in prizes as men get more than women do (Indian Wells! Shut it down!).
Novak Djokovic made the world groan by saying it made sense that women get paid less because more people watch men play than women. I'm sure that lack of equality in viewership also has nothing to do with sexism.
Serena Williams shot back at Djokovic. She said,
Novak is entitled to his opinion but if he has a daughter — I think he has a son right now — he should talk to her and tell her how his son deserves more money because he is a boy.
Boom.
Thoroughly shut down, Djokovic apologized profusely.
In Rio this year, the Williams sisters haven't been doing too hot, but they have dominated in the past. Venus was suffering from a virus coming into the games and she and Serena lost in the first round of singles and doubles.
Venus went on to win the silver in mixed doubles with Rajeev Ram.
Regardless of how the Williams sisters competed this past week, you can't deny their existence as highly decorated Olympic athletes.
Serena has stayed characteristically positive in the face of her losses. She cheered on Simone Biles and Simone Manuel after their incredible gold medal wins in gymnastics and swimming, respectively.
While it was right for Murray to state his own achievements with individual title medals, it was equally right for him to acknowledge the brilliant Venus and Serena Williams and their achievements at the Olympics.
Citations: Glamour, The Guardian, ESPN, Fox Sports, Metro