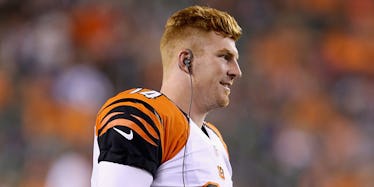 Forget The Haters: Andy Dalton's Early Dominance Makes Him The Real MVP
Getty Images
If you would've told me over the summer that an Andy Dalton-led Cincinnati Bengals team would be one of the few remaining unbeaten teams in the NFL through five weeks, I would've called your parents up and questioned why they had you.
Turns out, the Bengals are 5-0, and Andy Dalton is one of the best players in the game.
Up is down. Left is right. And Andy Dalton is the NFL MVP.
How do the Bengals keep winning games? Seems like they're winning effortlessly.
No matter whether they're blowing a team out, or they're trailing through three quarters, you always get the feeling they're going to win that game.
That's the first you've been able to say that since Carson Palmer was in town slinging the ball to Ocho Cinco, and even then, you were never totally confident in their ability to win football games.
Their defense isn't the reason for their record. The Cincinnati Bengals rank 21st in yard per game allowed.
That is extremely unimpressive.
For a team that keeps winning, their defense isn't doing them any favors.
And the Bengals aren't necessarily dominating the turnover game, as they rank 13th in the NFL in turnover differential, which is pretty average.
If defense isn't the reason for their success, it has to be the offense.
People always like to claim Andy Dalton has all of these amazing weapons around him, and that may be true, but none of those weapons are firing in the backfield as the Bengals rank 21st in rushing offense.
Giovanni Bernard is one of the best running backs in the league, but he's not winning games for this team.
Perhaps it's time to look at real culprit, Andy Dalton.
Andy Dalton is having the best season of any other player in the NFL, so far.
With a ratio of 11 touchdown passes to only two interceptions, Dalton has absolute control out there on the field and he's basically doing whatever he wants out.
Straight up embarrassing opposing defenses.
According to ESPN's Total QBR, Andy Dalton ranks 2nd.
The only quarterback with a higher QBR than Dalton is Ben Roethlisberger, who has the missed the last two games with a knee injury.
So basically Dalton is number one in a stat that rates both a quarterbacks overall performance as well as their situational success.
If the Cincinati Bengals continue to bury their competition, it'll be hard to ignore the Andy Dalton for MVP conversation.
Many people will look at Tom Brady and Aaron Rodgers, as they are perennial MVP winners, but so far this year they don't quite have my vote over Dalton.
So far Aaron Rodgers has more touchdown passes than Andy Dalton, but last week he threw two interceptions against the St. Louis Rams.
Rodgers has a tendency to take his foot off the gas pedal and play down to lesser opponents.
The Green Bay Packers will ease their way into the playoffs, and Rodgers won't need to put up huge stats to get it done.
Tom Brady and Andy Dalton are tied in touchdowns, and Dalton has more yards this season.
Statistically Dalton is better, and although both teams remain unbeaten, it's very apparent that Tom Brady has a better surrounding cast on both offense and defense.
The New England Patriots success this year isn't solely based off Tom Brady's production. The Bengals success is entirely due to the way Andy Dalton is playing.
In his fifth year in the NFL, Dalton has finally figured it out and is no longer the butt of every joke.
I think it's time we all go back to mocking Alex Smith.
I miss the good ol' days of laughing at Alex Smith attempting to throw a football deep down the field, and having it land by his own feet.
Andy Dalton is the NFL MVP, and no one can tell me otherwise.