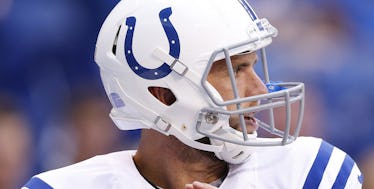 Overrated? 5 Reasons The Internet Is Totally Destroying Andrew Luck
Getty Images
The heat is turning up on Andrew Luck.
After the Indianapolis Colts' miserable performance on Monday night against the New York Jets -- during which Luck turned the ball over four times -- the knives started to come out for the star quarterback for what felt like the first time.
Can't believe this is happening, but it is: After years of making his team better, Andrew Luck is making it... worse? http://t.co/6B1m3KB2vS — Gregg Doyel (@GreggDoyelStar) September 22, 2015
The fact that Luck is getting criticized is noteworthy, especially when you consider the context in which his career has generally been viewed since he entered the league.
For his first three seasons, the general verdict on Luck was he's a once-in-a-generation talent who just was not fortunate enough to have the supporting cast to win -- a view that essentially absolves him of any fault.
Last night, that went out the window after the former Stanford Cardinal looked like a pretty undeniable part of Indy's problem.
Now, the constant upswing Luck's reputation was on for those first three years seems to be rapidly swinging like a pendulum in the opposite direction.
Can't wait to tell my grandkids about the Great Andrew Luck Backlash of 2015. — Will Brinson (@WillBrinson) September 22, 2015
So here we are, at a point where an overwhelming majority of people who've watched an Andrew Luck performance seem to be either torching him, at the worst, or questioning if he's overrated, at best.
And much of the conversation seems to revolve around these five stats:
1) He's had the most turnovers in the league for a significant stretch now.
Most turnovers since start of 2014 season: • Andrew Luck: 28 • Jay Cutler: 26 • Philip Rivers: 24 • Drew Brees: 22 — SportsCenter (@SportsCenter) September 22, 2015
2) He has one of the lowest QB ratings so far this season.
Bottom 5 in Total QBR in 2015 Sam Bradford 24.0 Alex Smith 25.5 Andrew Luck 28.5 Peyton Manning 41.0 Drew Brees 41.1 — ESPN Stats & Info (@ESPNStatsInfo) September 22, 2015
3) He was rated the 7th best player in the NFL.
But, he looks to be so far from that rating now.
4) The Colts' odds to win the Super Bowl, 8-1, made them joint favorites, along with the Patriots, in the AFC.
Super Bowl odds from @LVSuperBook: Seahawks & Packers, 9/2, Pats & Colts 8/1, Broncos 12/1, Cowboys, Ravens & Eagles 14/1. — Darren Rovell (@darrenrovell) August 17, 2015
5) There was one super-complimentary comment from Frank Gore that sums up just how highly rated Luck has been.
Gore told "The Jim Rome Show,"
He's a football god.
Now, people, including his own coach, are ready to vehemently challenging that notion.
More Pagano on Luck: He's got to take care of the football. Make great decisions. It's not that hard. It's not trigonometry. — Mike Chappell (@mchappell51) September 22, 2015
And there are two types loving it: people who thought he was overrated to begin with...
as someone who's been sick of ppl ignoring luck's flaws, today's gonna be fun to watch. some capes will be donned. some will be burned. — El Flaco (@bomani_jones) September 22, 2015
And all the Pats fans who hate the fact that the Colts snitching sparked Deflategate.
...hot damn am I gonna enjoy it if the Colts suck this season. — Bill Simmons (@BillSimmons) September 22, 2015
So yeah, the hits will be coming hard at Andrew Luck today, but at least we know he's used to taking shots with class.
Andrew Luck compliments players when sacked, is most genius trash talker ever. Catch Colts-Jets on @ESPNMondayNight. https://t.co/E6hHnAIMKz — SportsCenter (@SportsCenter) September 21, 2015