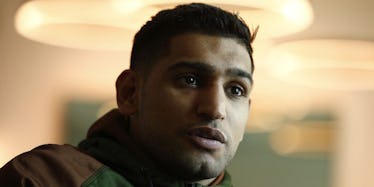 Married Boxer Whose Sexts To Lap Dancer Went Viral Has Graphic Sex Tape Leaked
Reuters
Lately, famous boxer Amir Khan has been making headlines for all of the wrong reasons.
After dodging several rumors about his personal life, a sex tape featuring the married athlete has been leaked onto the Internet.
The NSFW video, which was published on a well-known porn website, shows Khan wearing only a T-shirt and boxer shorts as he pleasures himself while talking to a female model on Skype.
The New York Post reports the model featured in the clip with Khan is a woman from Arizona who the boxer had a fling with in 2010.
It's believed the scandalous sex tape was recorded just weeks after Khan tied the knot with his wife, Faryal Makhdoom, in 2013, according to the New York Post.
Apparently, this isn't the first time Khan and Makhdoom's relationship has been plagued with accusations of infidelity, since Khan is thought to have cheated on his wife with Carla Howe, Natalia Fox and Tanya Read in the past.
Plus, rumor has it Khan was also sexting a lap dancer just days after the birth of his daughter.
If having one sex tape surface on the internet isn't bad enough, the New York Post reports three other X-rated videos of the champion boxer were also being offered for sale to various porn sites.
A source told the New York Post,
This is a mortifying moment for Amir. He's a Muslim boxer and his personal life is under the microscope right now, so the timing couldn't be worse. There had been rumors about these videos for years but now anyone who wants to view them on the internet for free can do so.
The reason it's such bad timing is because Makhdoom was recently in the middle of a public feud with her husband's family.
The beauty blogger brought her issues with Khan's family into the spotlight when she accused them of bullying her on social media.
Khan has threatened to abandon both Makhdoom and his family if the bickering continues, warning,
This is getting to the point where they will lose a son and a husband.
Now many people are wondering how his personal troubles will affect his performance in the ring.
Citations: Boxing star embroiled in leaked-sex-tape drama (NY Post)