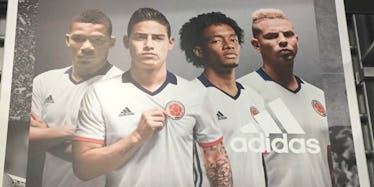 Adidas Just Totally Embarrassed Itself With This Rookie Spelling Mistake
At the moment, most of the Western Hemisphere is gripped with Copa America fever.
The world's oldest continental soccer tournament is currently being played in 10 cities across the United States, and while there's been plenty to cheer for since the tournament kicked off last Friday, we also have to talk about this monumental mistake on the part of sports apparel brand Adidas.
According to the below tweet from a fan of the Colombian national soccer team, it appears Adidas spelled Colombia with a "u" instead of an "o."
This is bad.
Combine the fact Adidas is one of the largest sportswear producers on the planet with the fact they actually sponsor the Colombian national soccer team, and you can understand why people are up in arms over this spelling error.
If this was a one-off mistake, you might be able to forgive a company, even one as huge as Adidas. However, as you're about to see courtesy of a few other Twitter users, Adidas clearly deserves every piece of hate mail it's receiving.
Get your shit together, Adidas. This is the global game we're talking about, and the world is clearly watching.
Citations: Spelling Error in New Soccer Ads Draws Criticism for Adidas (Sole Collector)