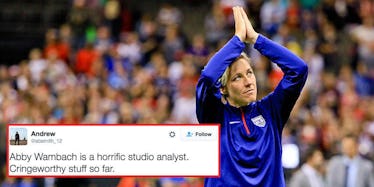 Abby Wambach Is Getting Roasted On Twitter For 'Terrible' Euro 2016 Analysis
USA TODAY SPORTS
Abby Wambach's work for ESPN at UEFA Euro 2016 is a familiar trope for soccer fans in the states.
When it comes to American broadcasts, we're all constantly given reason to not expect much from the analysts ESPN and Fox put in front of us, except no actual analysis at all.
Usually, this lack of insight comes from former American players who offer little to the table besides the fact they're, you know, former American players.
Wambach is no different, so far at least. Her TV debut was rough to watch, and viewers took notice. The US women's national soccer team legend got absolutely killed on Twitter, and was trending for all the wrong reasons.
The reviews are practically unanimous: Wambach has been terrible.
During one particular gaffe, Wambach spoke about a 4-2-2 formation, which, of course, doesn't exist. That also didn't go unnoticed.
Overall, just about everything she said and did got torn apart.
You could actually notice it paining people to criticize a US legend.
Look, Abby's an American soccer legend, so we'll have to put some "respeck" on her name no matter what. And it's just her first day on the job, so hopefully this is a bad start and nothing more.
But still, you'd expect some actual insight from a woman who's been playing the game at a high level for pretty much all her life.
The fact the majority of her analysis is just clichés and empty words is a disappointment for viewers, plain and simple.